Silver prices today (Friday) are still on the rise after ripping through the $20-an-ounce level Thursday.
July Comex silver was trading up $0.20, or 0.95%, at $21.10 in morning trading Friday. The silver price hasn't seen today's $21 level since March 17.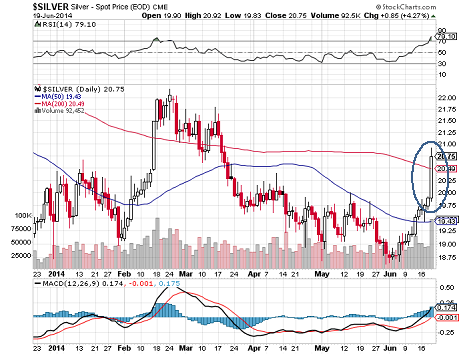 Silver for July delivery surged $0.87, or 4.4%, to $20.65 an ounce on Thursday. That was the white metal's highest settlement since March 19, when the price of silver closed at $20.93 an ounce. Thursday's volume was twice last month's daily average.
A "Perfect Storm" for Higher Silver Prices Today
Frequent CNBC contributor Dennis Gartman said Thursday's movement in precious metals was thanks to a "perfect storm" of buying as the market finally reacted to the Fed's comments and weakness in the U.S. dollar.
U.S. Federal Reserve Chairwoman Janet Yellen said Wednesday the Fed will leave interest rates at rock-bottom levels into 2015 in an effort to help the uneven American economy. Those comments sent the dollar reeling to a four-week low, giving investors an added incentive to buy precious metals.
Another factor in higher silver prices: inflation.
"Both gold and silver have seen strong price action since early June. It's still early, but just maybe these are signals that inflation is becoming entrenched," said Money Morning Resource Specialist Peter Krauth.
Yellen sounded unconcerned about inflation at the Fed press conference Wednesday. She dismissed data that shows inflation is gaining momentum.
"I think recent readings on, for example, the CPI index have been a bit on the high side, but I think the data we're seeing is noisy. I think it's important to remember that broadly speaking, inflation is evolving in line with the committee's expectations," Yellen said.
The worry is that the U.S. central bank will print money for too long, the money supply increasing faster than real output, which equals inflation.
Moreover, global central banks, including the Bank of Japan, Bank of China, and the Bank of England, to name a few, have also engaged in money printing. While worldwide economies are enjoying the stimulus now, it's the exit strategies that are worrisome.
Action in precious metals was delayed a day as the Fed's news, and Yellen's conference, came after the regular metals trading on Wednesday afternoon.
Fueling silver gains is safe-haven demand as violence in Iraq escalates and tensions continue to simmer in Ukraine. Also driving the white metal higher is an overall firming trend in global precious metal markets amid expectations that borrowing costs will remain at historically low levels for a good while.
And as is typically the case, when gold and silver prices start to run, people worry about missing out on gains.
Indeed, the Fed's dovish view on the economy and interest rates caught some market participants off guard. Many were anticipating a more hawkish tone from the June FOMC meeting. That forced some traders to cover shorts. Silver's robust 4.4% gain Thursday pushed some $2 billion worth of silver short positions into the red.
Other investors simply bought into the rally.
So what's next?
Bullish bullion option activity suggests more gains are ahead for silver. Lured by strong performances in stocks, market participants that have been underinvested in silver are swiftly and solidly returning to the white metal.
Geopolitical turmoil is pushing silver prices higher – and has also triggered new 2014 highs for oil prices. Our energy expert Dr. Kent Moors outlined everything investors need to know in The Oil "Crisis Spike" Is Just Getting Started
Related Articles: