This week is extremely busy on the IPO calendar as 19 companies hold initial public offerings. While there will be 19 new investment opportunities, the GoPro IPO is this week's must-watch IPO.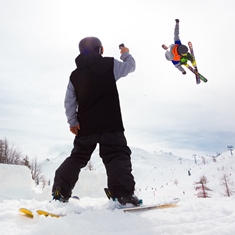 GoPro Inc. (Nasdaq: GPRO) designs wearable cameras that are frequently used to film extreme sports like skiing, snowboarding, and surfing. The company was founded in San Mateo, Calif., in 2004 by now-billionaire Nick Woodman.
The company's products have made high-profile appearances with extreme-sport athletes including Olympic snowboarder Shaun White and world-champion surfer Kelly Slater. Stuntman Felix Baumgartner filmed his highly publicized space freefall in 2012 with a GoPro camera. That footage was used in a 2014 Super Bowl commercial.
Through the IPO, GoPro plans to raise $401 million by offering 17.8 million shares at a $21 to $24 range. The company is expected to have a valuation near $3.4 billion after reporting $966 million in revenue last year.
But the GoPro IPO isn't the only big IPO this week. Take a look at the other 18 companies hitting the market...
IPO Calendar: The Biggest Initial Public Offerings This Week
ServiceMaster Global Holdings (NYSE: SERV) provides essential residential and commercial services. Its most well-known brands include Terminix (pest control), American Home Shield (home warranties), and ServiceMaster Restore (disaster recovery). SERV plans to raise $700 million through its IPO by offering 35.9 million shares at a range of $18 to $21 per share. In the last year, SERV reported revenue of $2.3 billion, and the company is expected to have a valuation of $2.5 billion following the IPO. SERV shares will hit the New York Stock Exchange (NYSE) on Thursday, June 26.
The Michaels Companies Inc. (Nasdaq: MIK) is North America's largest arts and crafts retailer. Through its IPO, the company is looking to raise $500 million by selling 27.8 million shares at a $17 to $19 range. Following the deal, the company should have a market value near $3.8 billion. In the last year, MIK reported revenue of $440 million. MIK will begin trading on the Nasdaq on Friday, June 27.
NextEra Energy Partners LP (NYSE: NEP) is a wind and solar energy company that plans to raise $325 million in its IPO this week. NEP will offer 16.3 million shares at a range of $19 to $21. In the last year, NEP reported revenue of $169 million, and the company is expected to command a market value of approximately $1.9 billion. NEP shares will hit the NYSE on Friday, June 27.
There are 15 other companies going public this week, and four of them are looking to raise more than $100 million...