Dow Jones Today, June 24, 2014: The U.S. stock market dipped on Tuesday despite continued positive economic data in consumer confidence and domestic housing markets. Consumer confidence struck its highest monthly level since January 2008. Meanwhile, the Commerce Department reported that new home sales increased 18.6%, reaching a seasonally adjusted rate of 504,000 units for the year. This is the highest level since May 2008.
Here's the scorecard from today's trading session:
Dow: 16,818.13, -119.13 (-0.70%)
S&P 500: 1,949.98, -12.63 (-0.64%)
Nasdaq: 4,350.36, -18.32 (-0.42%)
And here are the top stories from the stock market today: 
Here Come the Hikes: Philadelphia Fed Bank President Charles Plosser said that he expects the U.S. economy to grow at a higher rate than 2.4% for the balance of 2014. During a speech at The Economic Club of New York, Possner said he foresees the central bank raising interest rates ahead of schedule if inflation rises and unemployment continues to retract.
Downward: Shares of Walgreen Co. (NYSE: WAG) slipped 2% after reporting lackluster third-quarter results that were shy of Wall Street estimates. The company did increase its quarterly profits to $722 million, or $0.75 per share, and showed adjusted earnings of $0.91 per share, up from $0.85 per share last year. Despite the gain, projected earnings were $0.94 per share. The company said it plans to announce new operations and management strategies this summer.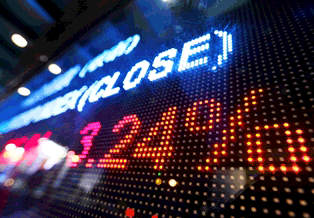 The Giant Wants More: Shares of Web.com Group Inc. (Nasdaq: WWWW) plummeted more than 20% on news that Google Inc. (Nasdaq: GOOG, GOOGL) announced plans to enter the domain-name registry business. Google has launched an invitation beta site that allows business owners to create unique domain names that end in terms like ".photography." The announcement led to an analyst downgrade of Web.com, which would become Google's competitor.
Heading East: U.S. healthcare firm Abbott Laboratories (NYSE: ABT) announced it will purchase Russian drugmaker Veropharm for between $395 million and $495 million in an all-cash deal. Though the company has sold products in Russia for decades, this is the first time the company will have a Russian manufacturing presence.
Now our experts share some of the most important investment moves to make based on today's market trading – for Money Morning Members only: