Hot stocks today: Alcoa Inc. (NYSE: AA) announced today (Thursday) it is buying U.K. jet engine parts maker Firth Rixson Ltd. in a $2.85 billion deal. Alcoa wants to build out its aerospace business and cash in on expected growth in the commercial jet market.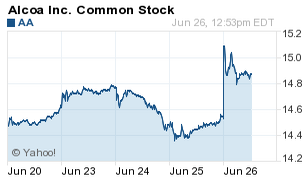 The aluminum maker will finance the deal with $2.35 billion in cash and $500 million in stock, with a potential $150 million earn-out if the acquisition meets certain financial milestones.
Recent statements and millions of dollars in investments from the company show that Alcoa is gunning for a bigger share of the global aerospace market.
"They're not quite going vertical, but they're clearly trying to enter a new segment and broaden their marketplace," said Money Morning's Chief Investment Strategist Keith Fitz-Gerald.
Why Alcoa (NYSE: AA) Wants Firth Rixson
Firth considers itself the world's largest manufacturer of seamless rolled rings, which are used as casings for jet engines and turbines. The company has facilities operating out of the U.K., the United States, China, and Central Europe. It also has divisions for forging operating out of the States, the U.K., and Hungary, and a metals division in the U.K.
"The acquisition of Firth Rixson is a major milestone in Alcoa's transformation," said AA Chairman and CEO Klaus Kleinfeld in a press release. "This transaction will bring together some of the greatest innovators in jet engine component technology; it will significantly expand our market leadership and growth potential."
After the first quarter, AA upped its global aerospace growth expectations for 2014 from 8% to 9% - which is why it wants Firth. In a press release today AA said it expects the Firth acquisition to grow the company's global aerospace market revenue by 20%. AA also expects Firth to grow by 12% annually through 2019.
And it's clear from the following numbers that Alcoa needs help with its top-line growth...