Hot stocks today: Alcoa Inc. (NYSE: AA) announced today (Thursday) it is buying U.K. jet engine parts maker Firth Rixson Ltd. in a $2.85 billion deal. Alcoa wants to build out its aerospace business and cash in on expected growth in the commercial jet market.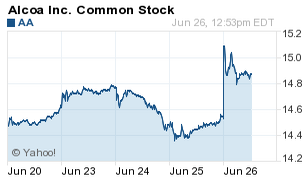 The aluminum maker will finance the deal with $2.35 billion in cash and $500 million in stock, with a potential $150 million earn-out if the acquisition meets certain financial milestones.
Recent statements and millions of dollars in investments from the company show that Alcoa is gunning for a bigger share of the global aerospace market.
"They're not quite going vertical, but they're clearly trying to enter a new segment and broaden their marketplace," said Money Morning's Chief Investment Strategist Keith Fitz-Gerald.
Why Alcoa (NYSE: AA) Wants Firth Rixson
Firth considers itself the world's largest manufacturer of seamless rolled rings, which are used as casings for jet engines and turbines. The company has facilities operating out of the U.K., the United States, China, and Central Europe. It also has divisions for forging operating out of the States, the U.K., and Hungary, and a metals division in the U.K.
"The acquisition of Firth Rixson is a major milestone in Alcoa's transformation," said AA Chairman and CEO Klaus Kleinfeld in a press release. "This transaction will bring together some of the greatest innovators in jet engine component technology; it will significantly expand our market leadership and growth potential."
After the first quarter, AA upped its global aerospace growth expectations for 2014 from 8% to 9% - which is why it wants Firth. In a press release today AA said it expects the Firth acquisition to grow the company's global aerospace market revenue by 20%. AA also expects Firth to grow by 12% annually through 2019.
And it's clear from the following numbers that Alcoa needs help with its top-line growth...
In its first quarter earnings, AA reported a 6.5% drop in revenue from the same period a year before, generating $5.5 billion this year versus last year's $5.8 billion. AA also reported a $178 million loss on the quarter, according to U.S. Securities and Exchange Commission (SEC) earnings releases.
AA is making its move to expand its aerospace business at a time when the aviation industry is pulling itself out of a slump that began with the September 11 attacks and continued alongside growing fuel prices and a slow-growing global economy.
However, the Federal Aviation Administration (FAA) has lauded the airline industry for finding new revenue sources and posting a profit for the fourth year in a row, with FAA forecasts calling for 2.2% growth over the next 20 years. Additionally, the demand for larger aircrafts - 70- to 90-seaters versus 50-seaters - is expected to grow, according to the FAA Aerospace Forecast for Fiscal Years 2014-2034 report.
In the last month, AA has been making moves to expand its aerospace divisions. In May, AA broke ground on a $100 million La Porte, Ind., facility to produce jet engine parts and, earlier this month, poured another $25 million into its Hampton, Va., facilities for the same purpose.
And the demand for aerospace products is not confined just to the commercial jetliner industry, as there is also a growing need to address military concerns, Fitz-Gerald said.
U.S. military experts and political leaders have considered introducing U.S. airpower to expel the militants in Iraq. The outgrowth of Muslim extremism from Syria through the Islamic State in Iraq and the Levant (ISIL) has spread into Iraq and escalated violent tensions in the past couple of weeks.
"Aerospace products are going to be critical to defending against the rise of extremist Muslim terrorist activity that is occurring around the world today," Fitz-Gerald said.
AA will purchase the company from the New York City-based private equity firm, Oak Hill Capital Partners LLC, who purchased Firth in 2007.
Alcoa stock was up 3.8% as the market opened today (Thursday) and hit a 52-week high of $15.18 before coming down slightly in the morning. AA is up 7.6% on the month and 37.4% on the year.
Futures prices for both crude and gasoline were down yesterday. Unfortunately, that barely tells the real story. Gasoline prices are headed to $4 per gallon - and here's why...