BNP Paribas fine update: A criminal probe into BNP Paribas SA financial dealings with U.S.-sanctioned countries wrapped up Monday as France's largest banker settled with a number of U.S. regulatory authorities for $8.8 billion.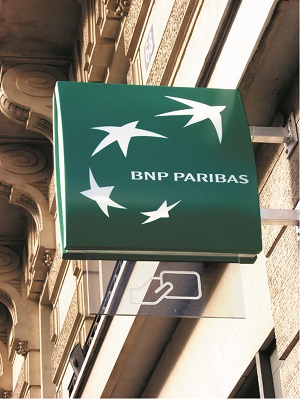 The settlement's price tag sets a record for financial institutions violating U.S. sanctions. BNP was charged with providing dollar clearing services and disguising transactions for Sudanese, Iranian, Cuban, and Burmese clients, all of which face economic sanctions and are prohibited from access to certain financial services in the United States.
These violations were carried out despite concerns from employees within the bank, and BNP's lawyers advising against it.
"By providing dollar clearing services to individuals and entities associated with Sudan, Iran, and Cuba - in clear violation of U.S. law - BNPP helped them gain illegal access to the U.S. financial system," U.S. Assistant Attorney General Leslie Caldwell said in a press conference yesterday (Monday). "In doing so, BNPP deliberately disregarded U.S. law of which it was well aware, and placed its financial network at the services of rogue nations, all to improve its bottom line."
The Transactions Behind BNP Paribas' Record Fine
The bulk of BNP's violations came from dealings with Sudan. The U.S. Treasury's Office of Foreign Asset Control identified 2,663 wire transfers totaling about $8.4 billion between 2005 and 2009, in violation of U.S. sanctions. The probe also uncovered 318 wire transfers totaling $1.2 billion between 2005 and 2012 involving Iran, 909 wire transfers of $689.2 million between 2005 and 2012 involving Cuba, and seven transfers of $1.5 billion between 2005 and 2009 involving Burma.
Sudan is facing sanctions because of both its ties with international terrorism - most notably for housing al-Qaida leader Osama bin Laden in the 90s - and for the Sudanese government's hand in atrocities linked to the Darfur crisis. Iran faces sanctions for its indiscretions involving its nuclear program. Cuba has been under economic embargo since the 1960s, and Burma's sanctions began in 1997 with a then-ruling military junta's repression of democratic opposition.
BNP made efforts to omit or disguise names and references in its Sudanese transactions. That action not only violated U.S. law, but also sidestepped the bank's own "general procedure" issued in 2003 that stated "U.S. financial embargoes apply within the U.S. territory, to any U.S. national or resident and to any transaction in U.S. Dollar," according to documents released by the U.S. Treasury after the settlement.
In the Geneva branch of BNP, the bank implemented a policy regarding Sudan that stated, "Do not list in any case the name of Sudanese entities on messages transmitted to American banks or to foreign banks installed in the U.S.," according to New York State Department of Financial Services' documents.
BNP also concealed transactions with Iran and, most notably, kept open a relationship with a petroleum company with Iranian ties. While the company was incorporated in Dubai, it was comprised of a network of eight energy firms - four of which were incorporated in Iran - and the owner was an Iranian citizen.
Within the $8.8 billion fine is a $2.2 billion payment to the New York State Department of Financial Services, $963.6 million to the U.S. Treasury, and $508 million to the Board of Governors of the Federal Reserve System. The penalty will also suspend U.S.-dollar clearing services for BNP's New York branch for a year.
The probes also led to disciplinary action on 45 employees within the bank, including some firings.
Despite the heavy fine and the slew of firings, Money Morning's Shah Gilani said U.S. regulators are lining their pockets while no one within BNP is really being asked to answer for the French bank's illegal activity; "it's just another 'paying to keep playing' scheme," Gilani said.
"By extracting penalties from big banks and not ever pursuing individuals, our Executive branch is saying, 'We'll fine you but not put you out of business, nor will we make your executives worry about their actions, they will be free to keep on figuring out how to make money for you and themselves...good luck and we'll probably see you again,'" Gilani said.
He added "there's a simple solution."
"Fine the banks exorbitantly and make them cough up all the responsible parties within the organization and let them be charged and defend themselves," Gilani said. "If that happens regularly and officers and managers and traders and whomever is committing crimes to benefit the institution and/or their pay arrangements go to jail, the next time anyone thinks about committing a crime, they'll think twice."