GWPH Stock Update: GW Pharmaceuticals Plc. (Nasdaq ADR: GWPH) stock once again hit our "hot stocks" list Monday when shares surged some 15% intraday to a 52-week high of $109.56.
Stoking shares of the UK-based biopharmaceutical company, devoted to the development and commercialization of cannabinoid prescription medicines, was a successful presentation over the weekend at a key conference.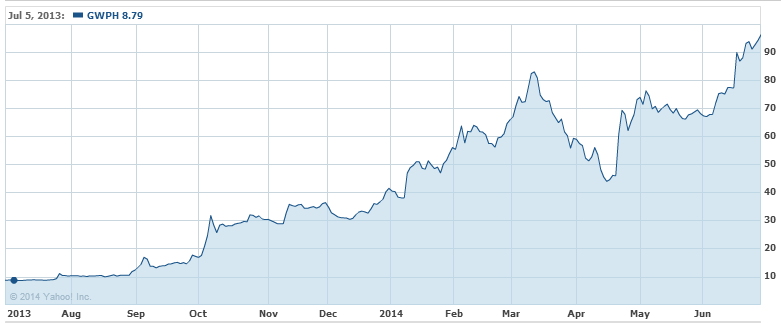 At the first biennial conference of the Dravet Syndrome Foundation, held June 26-29 in Chicago, Ill., guests were wowed by GWPH's presentation on of the efficacy of marijuana-derived cannabidiol treatments.
Special attention was placed on GW's late-stage, promising drug candidate Epidiolex. The drug is aimed at treating Dravet syndrome, a rare and severe form of childhood epilepsy.
Epidiolex was granted U.S. Food and Drug Administration fast-track status on June 6. FDA Fast Track designation means a drug under review (Epidiolex) targets serious medical conditions and fulfills an unmet and urgent medical need. Typically, trial drugs that have received Fast Track designation are generally granted greater access to the FDA for the purpose of accelerating the drug's development and FDA review. The designation also implies a much quicker drug approval process when the drug is given the nod from the FDA.
An urgent need indeed exists for Epidiolex.
It's not fully known how many people are affected with Dravet syndrome, as it is often misdiagnosed. Reports, however, suggest that 1 in 20,000 to 1 in 40,000 have the life-threatening form of epilepsy.
Some 3% to 8% of children who have their first seizure by 12 months old may have Dravet syndrome. Children with Dravet syndrome don't outgrow the condition. Current treatment options are extremely limited and prognosis for children suffering with the ailment is poor.
That's why the buzz surrounding GWPH's Epidiolex was a healthy dose of good news for many - including GWPH investors.
GWPH Stock Gets Upgrade
On the heels of the weekend conference, Piper Jaffray analyst Dr. Joshua Schimmer on Monday reiterated his "Overweight" rating on GWPH stock and hiked his price target from $97 to $147. That is 52.90% upside from the stock's previous close.
In a research note, Schimmer highlighted three reasons for the price boost:
"We come away with greater conviction that: 1) Epidiolex is a highly attractive emerging therapy for epilepsy; 2) Insys Therapeutics (Nasdaq: INSY) is unlikely to compete with its own (cannabidiol) on price or allow the market to genericize early; 3) GWPH's portfolio of cannabinoids will likely enable a group of products that can address the broader seizure market, including a subset of autism patients," Schimmer wrote.
Last week, Insys' own cannabidiol won orphan drug designation from the FDA for Lennox-Gastuat syndrome, another form of epilepsy.
This latest news will help GWPH stock, up a stratospheric 1,112% in the past year, continue to benefit shareholders.
Money Morning Defense & Tech Specialist Michael A. Robinson wrote about the marijuana industry in late March, as a flurry of marijuana-related stocks were flying high.
"With its solid science, multiple uses for its main cannabis-based biotech product, and strong alliances with global drug leaders, GW Pharmaceuticals should leave investors richly rewarded," Robinson wrote March 27 when he cited GW as the best profit play in the sector.
Now more analysts are noticing GWPH's prospects.
Morgan Stanley has an "Overweight" on shares with a $103 price target. Leerink Swann rates GWPH an "Outperform." Six other equity research analysts rate the stock a "Buy."
"I continue to be amazed by GW Pharmaceuticals," Jim Cramer said Monday on CNBC's "Cramer's Stop Trading" segment. "The company produces the only pure marijuana treatment not laced with other drugs."
The alternative treatments for epilepsy and their side effects are "awful," except for GHPW's therapy, he added.
Moreover, Epidiolex has the potential to be used as a treatment for migraines and autism. Additionally, the U.S. FDA has changed its stance on cannabinoids. The strict government agency is more inclined to want cannabinoid treatments to be legal, Cramer said.
Go here for Robinson's full analysis of GWPH stock.
Related Articles:
Dravet Syndrome Foundation: 2014 Conference
Investor's Business Daily: GW Pharma Drug Impresses at Epilepsy Conference