The current gold price as of July 1 represents a three-month high amid a weaker dollar and ongoing geopolitical tensions.
Gold for August delivery traded up $4.70 at $1,326.70 an ounce in early market action Tuesday. At last check, spot gold was up $2.70 to $1,333.60, its highest level since March 24.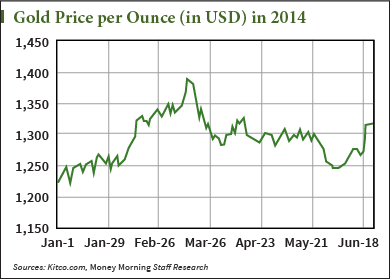 Since gold's surge of more than $50 an ounce on June 19, the yellow metal has been back in the spotlight.
Gold investors have recently bulked-up bullish positions in the shiny metal. According to data released Friday from the U.S. Commodity Futures Trading Commission (CFTC), hedge funds and other large gold investors added a record amount of ounces to their long positions in the week ending June 24.
Long positions rose 61% to 47,784 contracts, or 4.8 million ounces. That was likely the biggest weekly increase on record, or at least since 2007 when the CFTC changed the way data is collected, according to Ole Hansen, head of commodity strategy at Saxo Bank. Short positions fell by nearly 25,000 contracts.
The bullish stance comes as gold prices recover from a brutal 2013. Gold plunged 28% last year, its biggest annual decline since 1981. The current price of gold is down 31% from gold's all-time high of $1,923.70 hit in September 2011.
Yet gold's solid year-to-date gains have been a bit overshadowed amid record-setting rallies for equity markets.
"Many have failed to notice the fact that gold has shown a strong performance this year, and it seems that the 2013 slump is still fresh in people's minds," Michael Gayed, chief investment strategist at Pension Partners LLC, told Bloomberg.
The yellow metal logged its second consecutive quarterly gain Monday, as Q2 2014 came to a close. June was the precious metal's best month since March.
Gold prices rose 6.1% during June, putting the metal's gains for the recent quarter at 3%. Year to date, gold prices are up 10%, the best start to a year since 2010.
What's Boosting the Current Price of Gold