Hot Stocks 2014: Investors took a cue from a bullish upgrade Tuesday and piled into Netflix Inc. (Nasdaq: NFLX) stock.
Netflix shares surged $32.50, or 7.38%, to a fresh 52-week high of $473.68. Volume was brisk. With two hours left in the session, 3.72 million shares had already changed hands, compared to the stock's average daily volume of 2.86 million shares. By the close, volume was a hefty 5.22 million shares.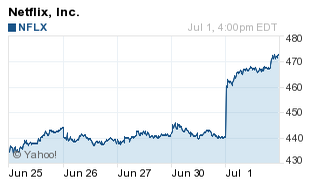 Also rising was NFLX option activity. Put-and-call trading spiked to three times its typical daily clip, with the greatest amount of activity seen in bullish short-term contracts.
Fueling the gains and volume spike for the on-demand Internet streaming media company was a ratings upgrade and price target boost from influential Goldman Sachs. The investment bank boosted its rating on NFLX to "Buy" from "Neutral," and hiked its price target to $590 from $380.
The firm raised its estimates for 2014 to $5.53 billion in revenue with adjusted non-GAAP profit of $5.89 per share. That's up from a prior forecast of $5.43 billion and $5.63 per share. For 2015, Goldman is even more upbeat. It sees earnings per share at $9.64 on revenue of $7.17 billion, from an earlier projection of $8.80 EPS on revenue of $6.79 billion.
While you can't always believe a Goldman rating – see "The Dirty Secret Behind Goldman Sachs' Conviction Buy List" – Netflix stock is indeed looking strong right now…
Hot Stocks 2014: Why NFLX Was Upgraded
Goldman wrote that NFLX will "drive sustained outperformance" as "subscriber growth will continue to exceed expectations." Netflix's addressable audience of subscribers will more than double over the next three years as the company adds new markets, the firms' analysts noted.
The firm also views the market for children-friendly content as a likely area of growth for the company.
"Following the loss of Nickelodeon content in 2013, Netflix has made significant investments in kids' content through deals with Disney (NYSE: DIS), DreamWorks (Nasdaq: DWA), and Mattel (NYSE: MAT) most recently, which could create a powerful niche for Netflix to compete and create original content," Goldman wrote.
The increasing use of mobile devices among today's youth also bodes well for Netflix.
From Goldman: "Kids are spending 3X more time each day on mobile devices, compared with two years ago, and kids' cable networks are reaching almost 3X the number of households as Netflix. Further, demographics data show that only 3% of Netflix's current users are kids, which leads us to believe that (1) the kids opportunity is large, and (2) Netflix is underpenetrated…"
Another driver for Netflix is the popularity of its exclusive, critically acclaimed and award-winning adult shows like "Orange Is the New Black," "House of Cards," and "Arrested Development."
But, as we pointed out earlier this year, it's much more than programming that will continue to boost NFLX…