The price of gold finished last week with a fifth-straight weekly gain. But after reaching $1,334.90 on July 1 – the highest level since March 24 – gold prices have been dropping due to Thursday's release of strong jobs data.
Gold for August delivery dropped 0.5% this morning (Monday) to $1,314.30 an ounce on the Comex in New York. Spot gold was down 0.5% to $1,313.40 an ounce.
"[We're seeing] the good jobs data [being weighed] against the major problems in the Middle East," Afshin Nabavi, head of trading at MKS, said to Reuters. "That's why I think the FOMC [meeting minutes release] this week ought to be more important than the ones in the past."
The price of gold fell on its last trading day, Thursday, after stronger-than-expected jobs data showed that the U.S. economy added another 288,000 jobs in June. Also weighing on the precious metal was a drop in the official unemployment rate to 6.1% – its lowest level since September 2008 – and the Dow Jones breaking through 17,000 points to set a new high.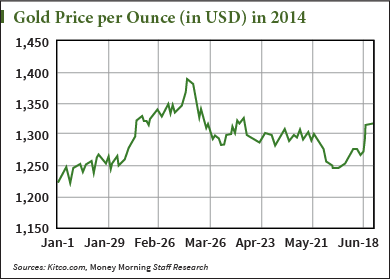 On the Comex exchange in New York, gold futures for August delivery dropped to $1,320.40 an ounce, a $10.50 (0.8%) loss. Spot gold fell by $7.60 to $1,320.25 an ounce. The London P.M. gold fix was $1,317.50, compared to the last session's $1,322.50.
The drop in gold futures was the most in five weeks. June saw gold prices rise by nearly 7%.
Despite today's decline, the price of gold has upward pressure right now that speaks to a rally in coming months, similar to what we saw in June.
Here's what's going to make the price of gold climb in the latter half of 2014…
Iraq Will Drive Up the Price of Gold
The Islamic State of Iraq and Syria (ISIS) continued its onslaught in the northern part of Iraq this week. Ongoing tensions threaten to destabilize oil prices.
In response, U.S. President Barack Obama recently announced the deployment of 300 military advisers to provide assistance to anti-ISIS forces. Their role, however, is to act as consultants as opposed to on-the-ground, fighting military operatives. It's likely that their efforts will not abate the escalating violence.
In addition to the warring factions in Iraq, political tensions add to the mix. Iraqi Prime Minister Nouri al-Maliki, a Shiite, has made no effort to forge an alliance with the Sunnis in that region. This has resulted in further political tensions that stem from the centuries-old dogmatic conflict between competing Muslim ideologies.
Iraq has been "a background factor that's helping to elevate gold," according to Brien Lundin, editor of Gold Newsletter.
Geopolitical tension abroad isn't the only upward pressure gold on gold. Domestic forces are also shaping the yellow metal's price…