Q2 2014 Earnings Calendar: The unofficial start to earnings season launches today (Tuesday) with Alcoa Inc. (NYSE: AA) reporting second quarter numbers after the close.
As earnings season kicks off, the big question on Wall Street is if stocks, trading at their highest level in seven years when compared with expected earnings, can keep rising. A slew of disappointing earnings reports could dent this rally.
Investors shrugged off tepid Q1 results, blaming the lackluster showing on harsh winter weather that blanketed much of the United States. Investors, however, aren't expected to be as forgiving if Q2 numbers disappoint. Investors will want to hold on to gains, and could move quickly to lock in profits if markets appear poised for a dip amid soft earnings.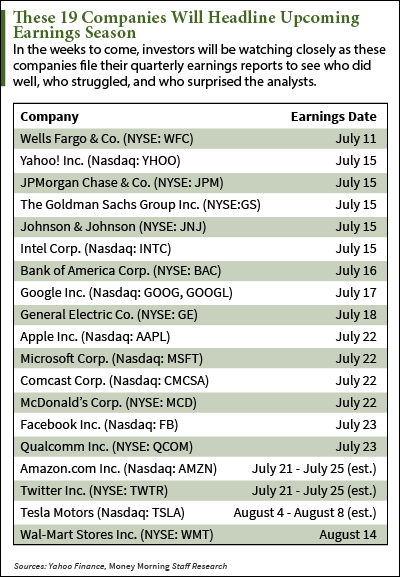 "We're at the point in the cycle where earnings have to come through," Jim Russell, Senior Equities Strategist for U.S. Bank Wealth Management, told CNN Money. "This is a little bit of a nail biter to justify and rationalize where the markets are right now."
Profits for S&P 500 companies are seen growing 6.2% in the second quarter, according to Thomson Reuters data, down from the 8.4% growth forecast at the start of April. Revenue is expected to rise 3%.
Yet stocks are getting a bit pricey. The S&P 500 is trading at roughly 15.7 times expected earnings for the next 12 months. That's the highest level since 2007 and above its average 13.9 times over the last decade, data from FactSet reveals.
As the numbers start to roll in, analysts and investors will scour earnings per share (EPS), revenues, profits, and sales. Close attention will be paid to "discretionary" stocks (retailers, restaurants, and leisure companies) for any signs of a pickup in consumer spending.
Key will be if the recent spate of data - from a recovering (yet uneven) jobs market to rising home prices to improving consumer confidence - translates into rising corporate profits.
Just four companies in the S&P 500 post earnings this week, with Alcoa going today after the bell. The aluminum maker has beat estimates in eight of the last 10 quarters. Alcoa is expected to report EPS of $0.12 a share for the quarter ending June 30, up from $0.07 the same period a year ago. Revenue is projected to be down 4.1% from the year-ago quarter to $5.63 billion.
The bulk of reports flood in during the weeks of July 21 and July 28, with big retailers reporting in August. Following are a few key earnings reports to watch.