One of the hottest trends for investors in 2014 has been investing in wearable technology stocks, as new products hit the market seemingly every week.
The wearable tech industry is growing at an incredible rate and has been described as a "key consumer technology." The research shows that the industry is set to explode. In fact, it's already experiencing incredible growth.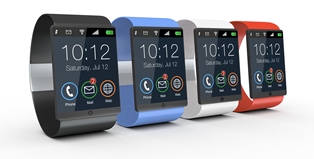 Google Inc.'s (Nasdaq: GOOG, GOOGL) "Google Glass" and Fitbit Inc.'s "Fitbit" are two of the most popular wearable tech products on the market, but they're far from the only wearables that consumers can buy. And those aren't the only wearable tech companies that investors should have on their radar.
As the market develops, there will be more investment opportunities, but if you wait too long you can miss a chance to buy these wearable tech stocks before prices run higher. Here are just seven reasons why wearable technology stocks are about to take off...
Seven Reasons It's Time to Buy Wearable Tech Stocks
No. 1: Key Consumer Technology. In February, the research firm Canalys claimed wearable tech will become a "key consumer technology" by the end of 2014. The firm also predicts the smart wristband segment alone will grow from 8 million in 2014 to 23 million in 2015. That number is expected to reach 45 million in 2017.
No. 2: Explosive Revenue Growth. According to a late-2013 study from Juniper Research, retail revenue from the wearable technology market will grow from $1.4 billion in 2013 to $19 billion in 2018. But that's not the only research firm that's bullish on wearable tech's explosive growth.
"The tech forecasters at IDCsay the wearables market will grow at a compounded annual rate of 78% for the next several years," Money Morning's Defense and Tech Specialist Michael Robinson said. "That means it will double roughly every 11 months."
No. 3: Investors Are Buying In. It's not just consumers who are getting hyped by the wearable tech market. According to TechCrunch research in March, more than $500 million in equity and debt has been invested in wearable tech startups from 2009 through early 2014. Investor interest has grown steadily since 2009, and in 2013 more than $190 million was raised by startups.
No. 4: The iWatch Is Coming. According to Reuters, Apple Inc. (Nasdaq: AAPL) plans to ship 50 million iWatches within the first year of the product's launch. The device is expected to contain what Michael calls a 'LifeChip' that will monitor the user's pulse. The screen size is rumored to be 2.5 inches and will feature the iOS operating system.
"Embedded with sophisticated 'LifeChips,' the iWatch will monitor such key health metrics as blood-sugar levels, calories, and sleep cycles," Robinson said. All of this has Robinson extremely bullish on AAPL stock. See how high he sees the stock going based on its wearable tech potential...
Urgent: Evidence suggests this new breakthrough technology will be in every iWatch (and help you live an extra 27 years). First wave hits shelves this month. Go here.
No. 5: Android Wear Too. For those more loyal to the Android operating system, Google announced earlier this year that it will be bringing Android to wearable gadgets. The company's first initial push will be in the smartwatch market, but Google eventually plans on expanding into all types of wearables.