It's hard to imagine as we swelter in the summer heat, but many countries are going to be in real trouble this winter. Wars, rebel activities, and geopolitical struggles will mean a possible energy crisis throughout Europe and Asia.
In the Ukraine and other places in Eastern Europe and Asia, it could be a cold, dark winter. Gas and oil shortages and supply disruptions may mean that some folks literally freeze to death.
It's one thing to watch these struggles from afar. It's something else entirely when it hits closer to home.
And this winter, there may be a genuine energy crisis in New England...
The Homegrown Energy Crisis
Please understand that I have a strong emotional stake in everything that happens in New England. It's an area that has a warm place in my heart, and for good reason.
I was raised in Massachusetts, went to school there and in New Hampshire, and cut my teeth professionally with my first consulting gigs in Maine. Being a lifetime Red Sox fan is always thrown into the mix as well.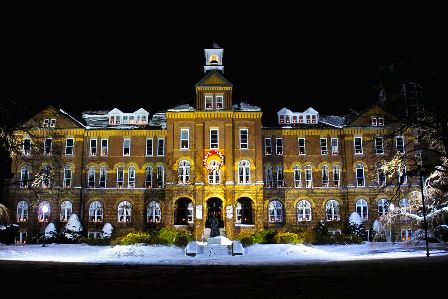 Saint Anselm College Alumni Hall
One of my degrees was earned on the picturesque campus of Saint Anselm College just outside Manchester, N.H. Coincidentally enough, my alma mater figures prominently in the upcoming crisis.
Yesterday, a meeting took place there highlighting a problem that has been intensifying for some time throughout the region.
As the Concord Monitor proclaimed in its July 2 edition, "New England is facing an energy crisis that will drive up consumers' electricity bills, and the states need to come together for a solution."
That was the official reason for the New England Council hosting a three-hour session at my alma mater. The council acts as a regional business association.
But the crisis goes way beyond commerce or business development. It could affect not only every business, but every home and every person in New England.
This is getting more serious quickly... for everyone. And here's why.
Join the conversation. Click here to jump to comments…
About the Author
Dr. Kent Moors is an internationally recognized expert in oil and natural gas policy, risk assessment, and emerging market economic development. He serves as an advisor to many U.S. governors and foreign governments. Kent details his latest global travels in his free Oil & Energy Investor e-letter. He makes specific investment recommendations in his newsletter, the Energy Advantage. For more active investors, he issues shorter-term trades in his Energy Inner Circle.