Gold prices today (Wednesday) finished back over $1,320 an ounce after the release of the latest U.S. Federal Reserve minutes, and amidst turmoil in the Middle East. Our new gold price chart reflects the current June-July rally.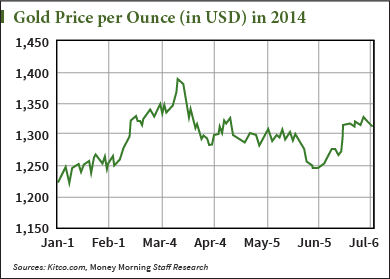 Gold prices have rallied with a 9.5% gain this year through the close of yesterday's session and are on track to tack on more gains today.
U.S. gold futures for August delivery reached $1,324.50 an ounce as of midday for an $8 (+0.61%) rise, putting gold futures on track for the biggest gain in nearly three weeks. Gold spot price per ounce was up $5.30 (+0.4%) at $1,323.90 an ounce.
On Tuesday, SPDR Gold Trust (NYSE Arca: GLD) - the world's largest gold exchange-traded fund (ETF) - reported its second consecutive session of inflows, according to Reuters. It's the first time since mid-April GLD's holdings reached above 800 tonnes.
Here's the top market news that's affecting gold prices right now...
Top Stories Affecting Gold Prices Right Now
The Federal Open Market Committee (FOMC) meeting minutes were released this afternoon at 2 p.m. EDT. They followed the FOMC meeting last month in which Fed Chairwoman Janet Yellen was dovish on interest rate talks.
The market had a muted reaction to the minutes today because they were not unexpected. According to Kitco,August gold was $8.40 higher to $1,324.90 an ounce as of 2:16 p.m. EDT, compared to $1,324.70 two minutes ahead of the minutes' release.
Per Yellen's previous comments, the Fed will likely end its monthly bond-buying program in October. There were no new insights on when the Fed might raise interest rates.
"It was in line with expectations. There were no surprises, really," Citi Institutional Client Group's futures specialist Sterling Smith said to Kitco.
Interest rates are important for goldbugs because higher interest rates are bad news for gold prices. Gold prices will typically weaken when rates go up as investors seek out higher-yielding assets.
Geopolitical tension in the Middle East is the other major factor contributing to gold's recent gains. Here's how it's shaping the yellow metal right now...