Any previous estimates of iPhone 6 sales need to be tossed out.
Evidence that Apple Inc.'s (Nasdaq: AAPL) next-generation smartphone will include a virtually unbreakable sapphire screen will push sales far beyond earlier expectations, which means that Apple stock at below $100 is significantly undervalued.
The Cupertino, Calif.-based tech giant used sapphire covers for the camera and fingerprint-reading home button in the iPhone 5s, but a sapphire screen is a major upgrade. Not only is it almost perfectly transparent with no distortions or discolorations of any kind, it's also next-to-impossible to scratch or crack.
That's the sort of must-have feature that by itself could induce huge demand. How many people do you know that have had their smartphones' screens scratched by the keys in their pocket, or cracked after an accidental drop?
But when you combine this nearly indestructible screen with the other upgrades we know about (such as bigger screen sizes and new health and fitness monitoring capabilities), it's obvious the iPhone 6 will exceed the sales of any previous model by a large margin.
So how do we know about this remarkable sapphire screen?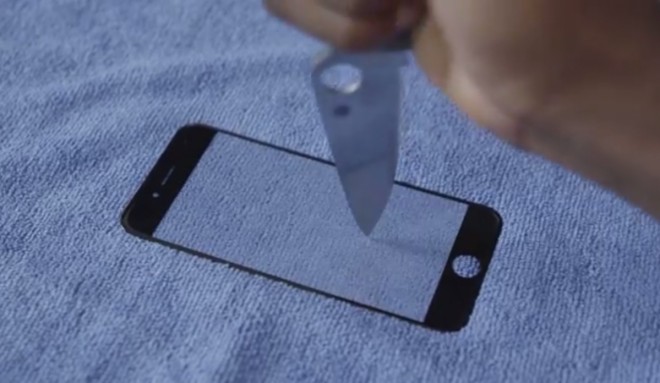 Rumors like this often come from sketchy sources in AAPL's Asian supply chain, but in this case we actually have video evidence, one from blogger Marques Brownlee and another made in China.
Both were able to get a sample of the iPhone 6 screen, and both spared no effort in trying to inflict damage. The screen withstood the scratching of keys, severe bending, being struck with a hammer, exposure to flame, and repeated jabbing with a large, sharp knife. In every case, the iPhone 6 screen emerged without a scratch.
Only the folks who made the Chinese video were able to destroy the sapphire screen – by running over it with a car.
With the iPhone 6 virtually guaranteed to be a runaway hit, let's look at how it will affect AAPL stock.