GoPro stock (Nasdaq: GPRO) stock was down as much as 7% in early trading today (Monday) falling to $36.10. At that price, GPRO stock has dipped almost 18% in its last five trading days.
Since hitting a high of $49.90 on July 1, GPRO stock has now dropped nearly 28% at today's low.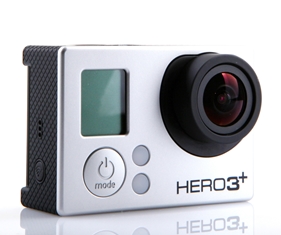 The GoPro IPO was one of the hottest initial public offerings of 2014, as the stock jumped 108% in its first four trading days. GoPro priced its shares at $24 in the IPO, and watched as shares quickly soared to nearly $50. The stock has cooled considerably since, posting losses in five of the last eight trading sessions.  
At today's low value, GPRO stock was still up 55% from its offer price, but clearly momentum has shifted.
Money Morning's Chief Investment Strategist Keith Fitz-Gerald predicted the company would see a nice "pop" from its IPO, but warned that long-term success would be much more difficult to sustain.
"I'd be very concerned about the stock's longevity with competition already nipping at its heels," Fitz-Gerald said. "I'm aware of half a dozen competing products that appear to be more wearable, potentially easier to use, and more consumer-friendly."
And after a similar sentiment was echoed in Barron's this weekend, that's exactly the concern weighing on GoPro stock today...
Why GPRO Stock Is Falling Today
Over the weekend, Barron's writer Alexander Eule discussed the long-term potential of GoPro cameras, and how similar technologies have been overrun by smartphones in the last decade.  
"In some ways, the excitement over GoPro is a quaint return to pre-smartphone days," Eule wrote. "It's hard to find stand-alone gadgets that haven't been subsumed by our phones. GoPro, though, still risks suffering a similar fate."
Eule points to the "Flip" camera which was purchased in 2009 by Cisco Systems Inc. (Nasdaq: CSCO) and gone within two years. The necessity for a pocket-sized camcorder was made obsolete by smartphones.
Currently, GoPro has a 45% share of the U.S. camcorder business and posted revenue of $986 million in 2013. That was up from $500 million in 2012. Its growth is impressive. Sustaining that growth will be a different story, however.
"As accessory makers perfect wearable mounts for smartphones - and they inevitably will - it becomes hard to justify GoPro's competitive advantage, particularly at 83 times earnings," Eule wrote.
This - and the fact that GoPro stock was due to come down from its initial pop - helped drive down the share price today. It's common for stocks to soar in their first few days of trading, and then pull back as early investors bank large, and very quick, gains. Twitter Inc. (NYSE: TWTR) stock jumped 93% in its first day of trading last November, but would close its 13th day of trading down 22% from its highs.
In order for GoPro stock to succeed moving forward, Money Morning's Fitz-Gerald says the company needs to show that it can monetize other parts of its business.
GPRO Stock's Key to Success