A new survey estimating how high Alibaba stock will rise after the company's initial public offering (IPO) highlights how bullish investors are about the potential of this Chinese e-commerce giant.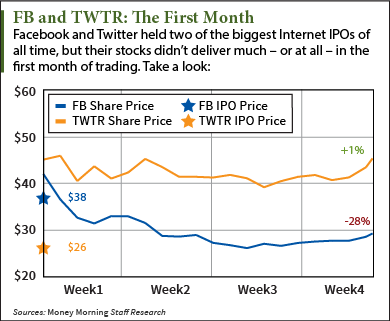 Typically, highly anticipated IPOs can be extremely volatile in their first months of trading. Facebook Inc. (Nasdaq: FB) and Twitter Inc. (NYSE: TWTR) are prime examples.
Facebook watched its stock open at $42 from its offer price of $38, only to fall 9% in the first day. FB stock dipped 50% in its first three months of trading. Facebook shares remained below their IPO price for about 15 months, but have now doubled in the past year.
TWTR shares soared as high as 93% from their offer price in their first day of trading in November 2013, before closing up 73% for the day. TWTR stock tripled from its $26 offer price in its first six weeks of trading - then suffered five months of steady decline that nearly erased all gains. TWTR now trades about 40% above its IPO price.
But, according to a survey from research firm ConvergEx Group,the investing world expects a much better performance from Alibaba stock...
Check Out These New Alibaba Stock Performance Predictions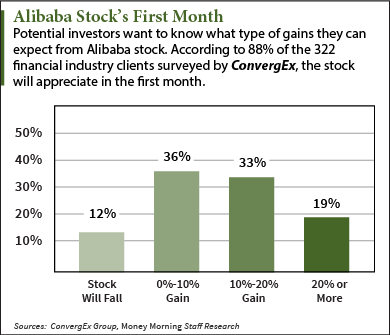 ConvergEx Grouprecently conducted a survey of 322 asset managers, hedge funds, banks, brokers, and other financial industry participants to see how they think Alibaba stock will perform in the first month.
According to ConvergEx, 88% of those polled believe that Alibaba stock will appreciate in its first month of trading. Of those, 33% believe the stock will post a gain between 10% and 20%. Additionally, 19% believe the stock will jump more than 20% in the first month alone.
Looking long-term at Alibaba stock, 15% of those surveyed described Alibaba stock as a "Very Good" long-term (three to five years) investment, 49% described it as "Good" and 32% described it as "Neutral." Only 3% of those surveyed described it as "Poor" and just 1% described it as "Very Poor."
And these optimistic projections from industry experts could lead to an influx of buying once shares are public, sending Alibaba stock even higher.
But this bullish survey isn't the only reason the Alibaba IPO could outperform some of the biggest IPOs of all time. We've compiled numerous industry and company figures that have us very optimistic about the upcoming Alibaba IPO.