Portuguese bank struggles helped to bolster the silver price last week, but those gains were erased yesterday (Monday) when the country's largest lender reshuffled management and eased investor's fears about the health of Portugal's financial system.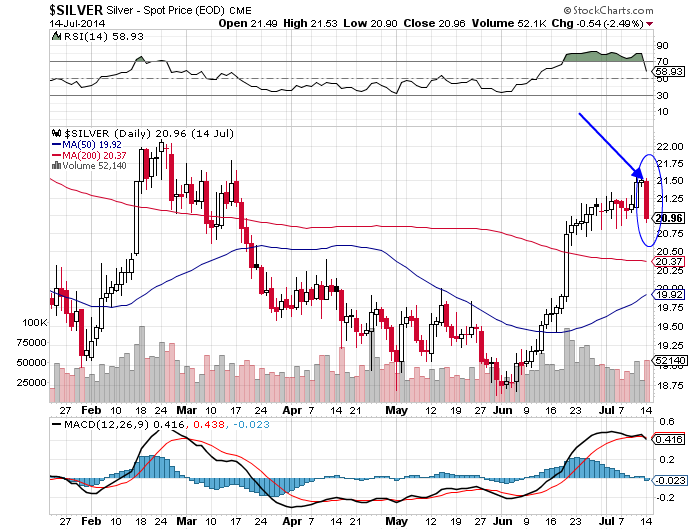 Click to Enlarge
The silver price dropped 2.4% to $20.96 an ounce yesterday, after posting six straight weeks of gains and pushing three-month highs. This was during a six-week period where silver trading is generally weak as the market moves into the summer doldrums.
Nonetheless, silver turned out a profitable month in June, surging as much as 14.5%. Investors turned to precious metals due to the U.S. Federal Reserve's hushed tones on interest rate increases, and to cover short positions taken following yearly lows.
Silver prices started out down last week, perhaps suggesting profit-taking on new highs and a transition into summer trading, but the news about Portugal shook investors' confidence and had them flocking to silver…
Silver Price Responds to Portugal's Banking Woes
On Thursday, Portugal's largest lender, Banco Espírito Santo SA (BES) and its parent company suspended shares after suffering steep losses. These losses stemmed from fears that the financial troubles of Espirito Santo International SA – the parent company that missed payments to some investors holding short-term commercial paper – would trickle down to BES.
Downgrades from the ratings agencies were soon to follow.
Because silver is seen as a vehicle to preserve wealth, it tends to get a boost when there are hiccups in the global economy and investors look to it as a hedge. But it also will lose value when there is renewed confidence in the economy.
When BES brought in new management Monday, it calmed the fears that investors had the week before, and all of the 1.4% gains last week were erased in one day.