What a difference six months can make. After a disappointing 2013, commodities prices came roaring back full throttle, with returns for the first half of 2014 outperforming the S&P 500 Index by more than 4% and 10-year Treasury bonds by more than 6%.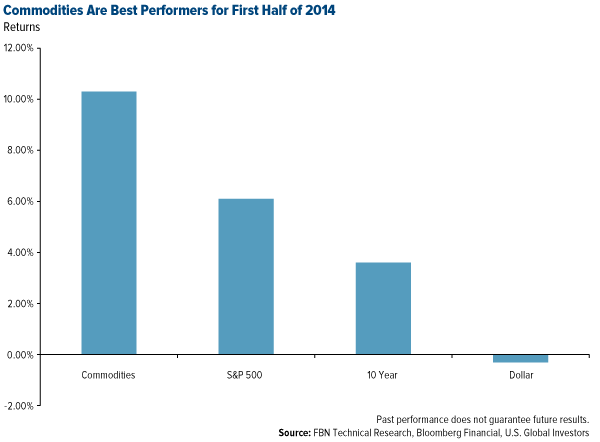 Leading the rally was nickel, delivering a 37.14% return, followed by palladium (17.70%) and gold (10.90%). Nickel also saw the largest gain from last year, climbing more than 55% to settle close to $19,000 per metric tonne. Gold jumped 38% to $1,327 an ounce, and palladium rose 16% to $843 an ounce.
At the back of the herd lagged lead, copper, and wheat, which was the best performer only two short years ago.
The 2014 halftime edition of our periodic table of commodity returns follows, which has proven to be a perennial favorite among investors.
That commodities prices often fluctuate so wildly supports the need to have your investments in the resources space diversified and actively managed by an experienced team of professional investors. Simply put, there are far too many worldly factors – some of them political, others acts of God, all tugging and pulling at the market in tandem – for any one person to reasonably keep track of. It's important to have a limber group of managers and analysts with the expertise and diligence to monitor and anticipate the most pressing global trends.
What we know is that now many investors have become bullish on resources. At a conference in New York at the end of last month, Credit Suisse polled 350 investors and found that 42% were planning to be overweight in commodities in the coming months. For some perspective, when the same question was asked of them the previous year, only 19% had a rosy attitude toward commodities.
As I said, what a difference six months – or, in this case, a year – can make. With money flowing back into commodities, the market is finally trying to reverse the downtrend that we've been up against since 2011.
Now let's take a look at how individual commodities have fared during the first half of 2014…