One of the best techniques for finding penny stocks to buy is finding industries experiencing tremendous growth.
By pinpointing these explosive areas, investors can find small companies – and cheap stocks – that are poised to break out.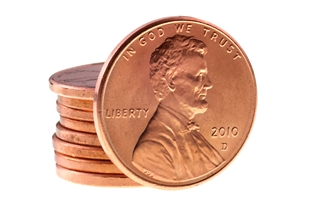 These penny stocks are also different than the riskier cheap plays that trap investors. They're headed higher because they are solid companies focused on emerging industries – and won't stay "penny stocks" for long.
These three picks are especially good picks because they stand to ride the growth of not one but two surging tech industries.
The first industry: semiconductors.
Time to Play the $78 Billion-a-Quarter Semiconductor Industry
Money Morning experts love the semiconductor industry, which – as measured by the SPDR S&P Semiconductor ETF (NYSE Arca: XSD) – isup 22% so far in 2014.
The main reason for the sector's success and bright future can be found in almost every consumer's pocket or purse.
"Smartphones may be the main catalyst behind this semiconductor boom," Money Morning's Defense and Tech Specialist Michael Robinson said. "While your personal experience may lead you to believe the smartphone market is mature, these devices, which use an array of chips for processing, cameras, and power management, will continue to see big sales numbers for years to come."
According to the International Data Corporation (IDC), more than 1 billion smartphones were purchased globally in 2013. That number is expected to jump 70% to 1.68 billion by 2017.
The Semiconductor Industry Association (SIA) has recently reported that worldwide sales of semiconductors reached $78.47 billion during the first quarter of 2014 – the highest-ever total for the first three months of a year.
"This really isn't a surprise, since semiconductors have become central elements of almost every device we use," Money Morning's Executive Editor Bill Patalon said. "You'll find them in LEDs, smartphones, Wi-Fi routers, tablets, gaming consoles, digital camcorders, and new cars and trucks."
But that's just the tip of the iceberg for these devices and the companies that produce them – because the emergence of wearable technology devices is creating even better profit potential for semiconductor stocks…
Wearable Tech's Explosive Growth Potential
Just like smartphones and tablets require numerous semiconductor products and microchips, so too do wearable tech products. That's great news for semiconductor companies because the wearable tech field is about to take off.
In February, the research firm Canalys claimed wearable tech will become a "key consumer technology" by the end of 2014. At the same time, the firm also predicted that the smart wristband segment alone will grow from 8 million in 2014 to 23 million in 2015. That number is expected to reach 45 million in 2017.
Another study from Juniper Research in late 2013 reported that retail revenue from the wearable technology market will grow from $1.4 billion in 2013 to $19 billion in 2018.
"The tech forecasters at IDC say the wearables market will grow at a compounded annual rate of 78% for the next several years," Robinson said. "That means it will double roughly every 11 months."
One of the best ways to play these industries is with a few select penny stocks. Major tech companies like Apple Inc. (Nasdaq: AAPL) and Google Inc. (Nasdaq: GOOG, GOOGL) will always be at the forefront of growing tech industries – but their stock is more expensive per share than smaller companies that are off Wall Street's radar. Since these players are lesser known, investors have a chance to buy in before they potentially become household names – and share prices soar.
And thanks to their smaller size, these companies can expand at a much faster rate than mega-cap corporations.
Here are three penny stocks that are poised to ride these sectors' tremendous momentum…