You know I get stoked when a stock I've recommended to you does well. So you can imagine how excited I am when I get to recommend a stock all over again.
I'm talking about U.S. Silica Holdings Inc. (NYSE: SLCA) stock, which I first recommended back in February.
Thanks to a sell-off shortly before I first shared SLCA with you, we were able to buy this stock relatively cheaply. And since then, just five months ago, SLCA stock has soared 105%.
And I think today's price, about $58 a share, is still too cheap.
Over the last three years, U.S. Silica Holdings has increased earnings per share by an average of 73%. For now, I'm going to be conservative and assume it grows by only one-third that amount going forward.
That would give us an earnings growth rate of 24%. At that rate, profits and the SLCA stock price could double again in as little as three years.
This is a stock that provides us with a buffet of choices.
We can sell it and make our double. We can keep it and watch it quadruple. Or we can buy some more and then watch our portfolios soar higher and our retirements grow more secure.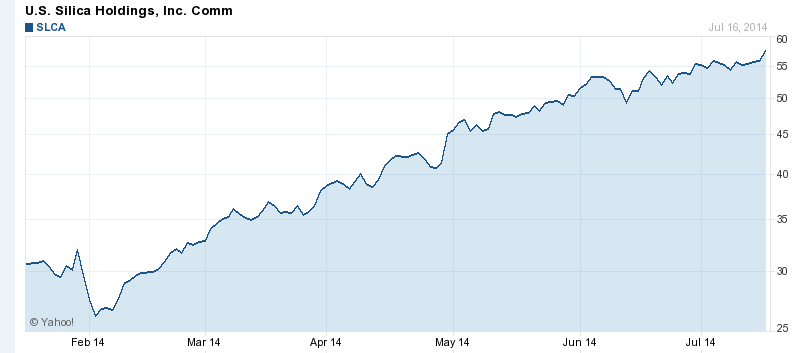 Today, I want to explain why SLCA continues its upward trajectory and why it's one of the best stocks to buy now.
You see, U.S. Silica Holdings' products are a big part of the technology that provides our best defense in a global energy war that has just started. And that makes this a "defense" technology we can feel proud about profiting from…
The Quiet War
On June 6, I noted that Russia and its president, Vladimir Putin, had just reached a $400 billion agreement to supply natural gas to China. The massive deal is part of Putin's scheme to use Russia's abundant energy supplies to grow his nation's economy.
This 30-year pact threatens to upset the delicate global balance of power. In fact, this deal was one of the first shots in Russia's energy war against the United States and Europe.
Europeans rely on Russia for energy supplies, and so they could pay higher prices once all that gas starts going to China. It's a quiet war that again pits the United States against its longtime adversaries.
And that's not the only front in this quiet war.
Join the conversation. Click here to jump to comments…
About the Author
Michael A. Robinson is one of the top financial analysts working today. His book "Overdrawn: The Bailout of American Savings" was a prescient look at the anatomy of the nation's S&L crisis, long before the word "bailout" became part of our daily lexicon. He's a Pulitzer Prize-nominated writer and reporter, lauded by the Columbia Journalism Review for his aggressive style. His 30-year track record as a leading tech analyst has garnered him rave reviews, too. Today he is the editor of the monthly tech investing newsletter Nova-X Report as well as Radical Technology Profits, where he covers truly radical technologies – ones that have the power to sweep across the globe and change the very fabric of our lives – and profit opportunities they give rise to. He also explores "what's next" in the tech investing world at Strategic Tech Investor.