Some of the stock market's best and most unexpected gains over the last year have come from a penny stock destined not to remain in this low-priced stock category much longer.
Shares of Plug Power Inc. (Nasdaq: PLUG) have surged a stratospheric 1,258% in the last 12 months, and are up a meteoric 260% year to date. Gains logged so far in 2014 mark the best performance for the Latham, N.Y.-based company in its 11-year history.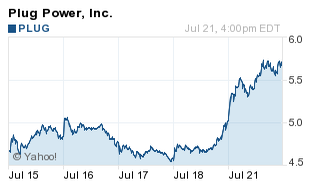 PLUG shares were on a tear Monday, hitting their highest level in some three months intraday.
Shares of the alternative, renewable energy company surged 14% to $5.74 on heavy volume. Shortly after 1.p.m., volume was a brisk 37.60 million shares, comfortably more than double the stock's average daily volume of 13.75 million shares.
The stock is up 18% month to date. That puts July on pace to be PLUG's best performing month since March when shares rose a blistering 50%.
After taking a breather from earlier this year, when shares peaked at $11.72 (its 52-week low is $0.36), PLUG shares are again showing some serious signs of life.
Here's what has happened to this popular penny stock...
PLUG Shares Power On
Last week, PLUG shares climbed nearly 10% after a couple of analysts showed PLUG some love.
Roth Capital shared its optimistic outlook that the company is handily on track to achieve its revenue guidance and booking targets for fiscal year 2014, ending Dec. 31. Roth's positivity came after three days of meetings with PLUG's management team.
PLUG anticipates revenue will reach $75 million by year's end thanks to a burst of new orders and overseas expansion.
Further fueling activity in PLUG, and fuel cell stocks overall, were comments late last week from Japanese Prime Minister Shinzo Abe.