Americans' tastes are changing. They're forgoing fast food burgers and cans of cola for healthier options like freshly made burritos – specifically, from Chipotle Mexican Grill Inc. (NYSE: CMG).
Investors also appear to be making the switch, with Chipotle stock rewarding shareholders today.
The proof is in these just-released earnings reports and today's stock action from three major industry players.
Take a look…
Chipotle Stock (NYSE: CMG) Surging on These Numbers
Chipotle Mexican Grill Inc. (NYSE: CMG) stock climbed nearly 15%, or $72, to a 52-week high of $663.43 Tuesday morning after it reported strong earnings after Monday's close.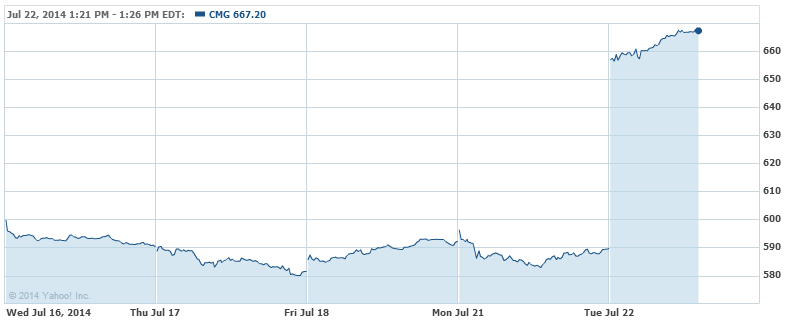 The Denver-based company earned $3.50 per share in the second quarter, handily above the $3.09 per share analysts were expecting and up from $2.82 reported in the same quarter a year ago. Net income jumped 25.5% to $110.3 million, up from $87.9 million year over year (YOY). Revenue rose 28.6% to $1.05 billion.
Same-store sales for restaurants open at least a year – a key measure of growth – climbed 17% in Q2. That marked one of the strongest quarterly sales rates in Chipotle's history as a public company, according to Chief Executive Officer Steve Ellis.
"These extraordinary results are made possible by our special food culture, innovative people culture, and strong business model," Ellis said in a statement.
Analysts say Chipotle has benefited from increased demand for fast food that is healthier and less expensive than what's available at traditional sit-down restaurants.
Chipotle has been rapidly expanding since it spun off from McDonald's in 2006. With $3.2 billion in sales last year, it ranks as the nation's biggest "fast-casual" Mexican food chain, according to Morningstar. The company opened 45 new restaurants during the quarter. For the full year, Chipotle expects to open 195 new restaurants.
The red-hot quarter came even as Chipotle hiked menu prices in April for the first time in three years. Chipotle, like many in the food industry, has been paying higher prices for key ingredients. Prices of steak, cheese, and avocados have all spiked this year due to droughts plaguing many parts of the country.
The company also provided upbeat forward guidance, expecting full-year sales growth in the "mid-teens."
As CMG enjoys success, some of its soaring sales come at the cost of losses to these two leaders in the food industry…