Current gold prices shifted lower Tuesday morning due to profit taking.
Gold futures for August delivery last traded down $10.60 at $1,303.10 an ounce on New York's Comex. Spot gold was also last quoted down $9.30 at $1,303.50. It finished on Monday at $1,312.80 an ounce.
"Similar to what we saw last Monday, a lot of people are taking gold profits and putting it back into stocks," Money Morning Chief Investment Strategist Keith Fitz-Gerald said.
Gold prices that day (July 14) fell sharply by 2.3% for what was the biggest one-day drop of 2014 yet. Gold's still up for the year – as the following gold price chart shows – but has had a bumpy ride.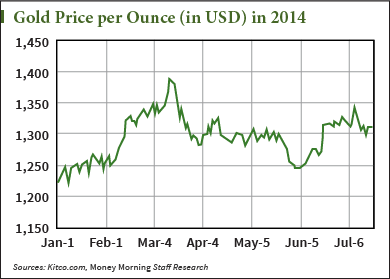 Fitz-Gerald told investors to watch for this gold profit-taking pattern in an appearance on FOX Business' "Varney & Co." last Monday. When gold prices rally, this kind of profit-taking sell-off can soon follow.
Preceding last Monday's biggest daily drop of the year, gold prices had rallied with a 9.5% gain in 2014 through mid-July. August Comex gold was on track for the biggest gain in nearly three weeks the prior Wednesday.
What's more, U.S. markets were on track for gains across the board last Monday, with the Dow Jones up 113 points (0.67%) as of 3:30 p.m. EDT. Fueling gains were strong merger activity and favorable Citigroup (NYSE: C) earnings.
The current gold price was similarly set up for profit taking by strong gains.
You see, on Thursday, the price of gold spiked when news that Malaysia Airlines Flight 17 – a passenger plane that carried 298 people – was potentially shot down by pro-Russian separatists in Ukraine. The safe-haven investment tends to see gains when fear arises, and indeed, spot gold had gained 1.3% by midday that day, and August gold futures climbed $9 an ounce.
Meanwhile, U.S. markets were green across the board on Friday, and the Dow Jones consolidated above the 17,000-point threshold.
Still, current gold prices could stabilize or swing higher today yet, on these events…