Just weeks ago, the mainstream media was still talking about an alleged correction for tech stocks.
However, I see things much differently. The tech-centric Nasdaq Composite Index has gained some 6.5% so far this year. That's more than double the Dow Jones Industrial Average's 3% gain.
This is great news I just had to share with you.
Folks in Silicon Valley have a term they use to describe a company that wants to keep its operations quiet.
They call it "Stealth Mode"...
The term applies to a startup that's hiring, raising funds, and developing a product - but is operating in secret to keep its competitors in the dark.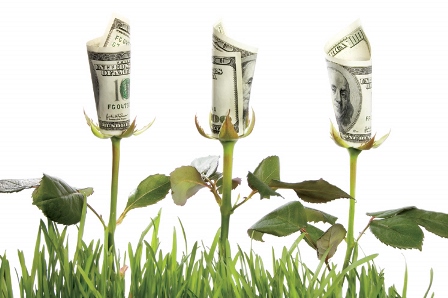 "Stealth Mode" also could describe this quiet - but substantial - rally tech stocks have been in nearly all year and especially during the last three months.
While the media was focused on the Dow recently hitting a record 17,000, the Nasdaq has done twice as well. All the while, Wall Street and the mainstream financial media have kept quiet about it.
About 15 months ago, I noted that well over half of all Americans have less than $25,000 in savings - and can't afford to retire. That number hasn't changed much overall... but I know it's changing for you.
After all, at the same time, I told you that the road to wealth is paved with tech.
This has long been true - from the lightbulb, the radio, the television, and the airplane in the past to transistors, semiconductors, computers, software, the web, and smartphones today.
And these midyear numbers prove this trend is showing no signs of slowing down.
Today, I want to talk with you about why I think tech stocks will continue climbing for the rest of this year.
And I'm sharing with you three great ways to not only play the Stealth Tech Rally... but also to continue filling your retirement war chest with more and more gold...
Tech Stocks Are the Real Winners
It's true that the Standard & Poor's 500 is ahead of the Nasdaq so far this year. With a year-to-date gain of 7.5%, it's doing about 14% better.
But that advantage disappears when you look at what's happened over the last three months. During that time, the Nasdaq has gained some 9.75%, beating the S&P's gains by 30%.
By just about anyone's standards, that's a decisive victory.
While I'm especially hot on tech, I also still expect a strong 2014 for the overall market. And I'm basing that prediction on the following key economic factors.
Let's start with the job market. We have had five straight months in which the economy has added more than 200,000 jobs. That's the best five-month stretch in six years.
Auto sales also continue to do well. At the end of June, the industry had an annual sales run rate of 16.3 million new cars and trucks. At that rate, 2014 sales would rise 4% from last year, when sales of 15.6 million cars and light trucks were the highest they had been since the Great Recession.
Meanwhile, the Institute for Supply Management trade group says U.S. manufacturing expanded in June for the 13th consecutive month. The group's New Orders Index registered 58.9%, up 3.5% from May reading.
The continued economic expansion bodes particularly well for tech stocks. And I'm not the only one who thinks so.
For the second quarter ended June 30, analysts polled by Thomson Reuters expect the tech sector to show the strongest growth in earnings per share among the 10 industry sectors in the S&P 500.
Indeed, the consensus forecast calls for tech earnings per share (EPS) to rise 12.5% from the similar period last year. That's more than double the 6.2% gain analysts expect for the S&P 500 as a whole in the second quarter.
As I see it, the economic stats and second-quarter earnings projection prove what I've been saying all along: Tech will continue to drive the market higher the rest of this year.
I promised you that I would use Strategic Tech Investor to share my 30 years of experience in high-tech investing. I pledged to give you my keen and expert insights on mastering the tech markets.
I first shared with you my five-part strategy, which I've developed and perfected over those 30 years, to deliver winning picks time and again.
And now I want to help you jump in on not just a piece or two of our Stealth Tech Rally - but a big, highly profitable chunk of it.
With that Thomson Reuters report in mind, let's take a look at the tech subsectors that I think will do particularly well in our Stealth Rally.
I'm going to recommend, for each one, an exchange-traded fund (ETF) security that tracks a group of companies in a single sector like an index fund, but trades like a stock on an exchange. That way you can play the entire subsector's rally with a single investment.
Let's take a look.
Stealth Tech Rally Catalyst No. 1: Semiconductors
Among the 15 tech industries Thomson Reuters tracks, chipmakers and semiconductor equipment companies are expected to show the best earnings growth in the most recent quarter.
EPS growth among chip companies in the S&P 500 is expected to average 40%. And the semiconductor equipment sector is right on its heels, with expected EPS gains of 38%.
Not only that, but market data researcher World Semiconductor Trade Statisticsforecasts that the global chip market will have sales of $325 billion in 2014. That's up 6.5% from 2013.
The industry is growing on the strength of sales of tablets and smartphones, as well as autos, digital cameras, and game consoles.
The SPDR S&P Semiconductor ETF (NYSE Arca: XSD) offers tech investors a broad play on the entire chip sector. It holds some four dozen companies that make microprocessors, computer memory, and sensors.
XSD holds such big-cap names as Texas Instruments Inc. (Nasdaq: TXN) and Intel Corp. (Nasdaq: INTC). It also owns Atmel Corp. (Nasdaq: ATML), which has a market cap of less than $4 billion, and Silicon Laboratories Inc. (Nasdaq: SLAB), with a market cap of $2 billion.
Trading at $70, XSD allows you to touch the entire tech ecosystem in a cost-effective manner. Over the past year, with gains of nearly 32%, XSD has beaten the S&P by roughly 82%.
Stealth Tech Rally Catalyst No. 2: The Internet
Internet and e-commerce firms also should do well for the rest of this year. Because they don't have to operate factories or contract out manufacturing, like hardware firms, the sector's leaders have high profit margins and great cash flow.
Thomson Reuters says the Internet sector should have the third-strongest earnings performance for the second quarter - after chipmakers and semiconductor equipment companies - with a 28% gain.
I expect that trend to continue, serving as a major catalyst for tech stocks.
Just take a look at what's happening with sector leader Facebook Inc. (Nasdaq: FB). In this year's first quarter, Facebook's EPS nearly tripled.
The social network's mobile users in the period climbed above 1 billion for the first time, up 34% from a year ago - and Facebook has 1.28 billion total users, across both mobile and desktop.
The Street expects Facebook's earning to rise by 68% for the second quarter when the firm reports July 23. But as much as I like Facebook, I think investors would do well to take a broader look at the sector.
That's where the First Trust Dow Jones Internet Index (NYSE Arca: FDN) comes in.
Besides Facebook, which is its largest holding, FDN also owns Amazon.com (Nasdaq: AMZN) and both classes of Google Inc. (Nasdaq: GOOGL), which has voting rights, and GOOG, which does not.
Trading at roughly $59.40, FDN has invested in online entertainment and e-commerce. It holds eBay Inc. (Nasdaq: EBAY), the Priceline Group Inc. (Nasdaq: PCLN) and Netflix Inc. (Nasdaq: NFLX).
Over the past year, FDN beat the S&P by roughly 18%. I expect that figure to climb in the second half as the Internet sector reports strong earnings gains.
Stealth Tech Rally Catalyst No. 3: IPOs
Of course, initial public offerings are not unique to the tech sector.
However, as a former adviser to Silicon Valley venture capitalists, I can share with you that tech and the biosciences make up roughly 35% to 40% of the new stocks that go public each year. And at certain points in the market, that figure can climb much higher.
Just last week, of the 12 IPOs listed as ready to price over the next couple of weeks, nine of them were either in the biosciences or high tech.
In other words, tech is the biggest driver for IPOs, which themselves are major catalysts for a bull market.
Analysts at Dealogic estimate the total value of IPOs this year at $510.1 billion. That beats the previous first-half record of $498.9 billion set in 2007.
Main Street investors find it notoriously difficult to invest in IPOs - usually, only certified investors and fund operators can. In that case, an ETF may be the only way you can invest in newly public companies.
The First Trust IPOX-100 Index Fund (NYSE Arca: FPX) is a great way to play this field. It gives investors the upside that comes with the overall IPO market, and you won't get burned on IPOs that flame out.
And FPX holds some great tech stocks: Tesla Motors Inc. (Nasdaq: TSLA), NXP Semiconductors NV (Nasdaq: NXPI), and Fleetcor Technologies (NYSE: FLT), a leading payments processing firm, are just the start of the list.
Over the past year, FPX has beaten the S&P 500 by 47%, with 25% gains. Compare that to the S&P's 17% advance.
It's like I've been saying for these past 15 months. The road to wealth is paved by tech.
There's no doubt about it.
These ETFs offer us yet more ways - solid foundational plays - to get on that road and build your net worth over the long haul.
If you're just coming in, welcome. I invite you to check out the archives to learn more about my rigorous five-part strategy for evaluating stocks.
If you've been here a while, let me know how you're doing.
As I said those months ago, you can become the master of your destiny... and you'll get there quickest by investing in tech stocks.
More from Michael Robinson: The best tech companies have the most cost-effective R&D budgets - not the biggest ones. Boost your portfolio with AAPL today, plus two more "strong performing" tech R&D winners...
About the Author
Michael A. Robinson is a 36-year Silicon Valley veteran and one of the top tech and biotech financial analysts working today. That's because, as a consultant, senior adviser, and board member for Silicon Valley venture capital firms, Michael enjoys privileged access to pioneering CEOs, scientists, and high-profile players. And he brings this entire world of Silicon Valley "insiders" right to you...
He was one of five people involved in early meetings for the $160 billion "cloud" computing phenomenon.
He was there as Lee Iacocca and Roger Smith, the CEOs of Chrysler and GM, led the robotics revolution that saved the U.S. automotive industry.
As cyber-security was becoming a focus of national security, Michael was with Dave DeWalt, the CEO of McAfee, right before Intel acquired his company for $7.8 billion.
This all means the entire world is constantly seeking Michael's insight.
In addition to being a regular guest and panelist on CNBC and Fox Business, he is also a Pulitzer Prize-nominated writer and reporter. His first book Overdrawn: The Bailout of American Savings warned people about the coming financial collapse - years before the word "bailout" became a household word.
Silicon Valley defense publications vie for his analysis. He's worked for Defense Media Network and Signal Magazine, as well as The New York Times, American Enterprise, and The Wall Street Journal.
And even with decades of experience, Michael believes there has never been a moment in time quite like this.
Right now, medical breakthroughs that once took years to develop are moving at a record speed. And that means we are going to see highly lucrative biotech investment opportunities come in fast and furious.
To help you navigate the historic opportunity in biotech, Michael launched the Bio-Tech Profit Alliance.
His other publications include: Strategic Tech Investor, The Nova-X Report, Bio-Technology Profit Alliance and Nexus-9 Network.