The earnings calendar is jam-packed this week with big results from Facebook (Nasdaq: FB) and Under Armour (NYSE: UA) most recently, and results are helping the Standard & Poor's 500 Index hit record highs.  
S&P 500 companies are beating on earnings per share (EPS) and revenue at a rate not seen in years. The index components that have reported are beating revenue consensus estimates by 1.43% on average, according to FactSet. That's handily above the 0.57% that exceeded revenue estimates, on average, over the last 16 quarters.
Earnings dominate today's (Thursday) hot stocks list, and some are sizzling hot numbers.
FB, UA Top Hot Stocks to Watch – Plus 10 More
Facebook Inc. (Nasdaq: FB) kicks off today's hot stocks list. The social network giant reported Q2 earnings Wednesday after the close that trounced estimates. FB's Q2 EPS of $0.42 were up 121% year over year (YOY). Revenue rose 61% YOY. Mobile advertising revenue grew 151% and now represents 62% of FB's overall advertising revenue.
While much has been made of FB's massive 1.3 billion member count, Facebook is actually much bigger than that. Across its flagship properties, which include Instagram, WhatsApp, and Messenger, Facebook's total user tally is a whopping 2.2 billion, according to data from Business Insider.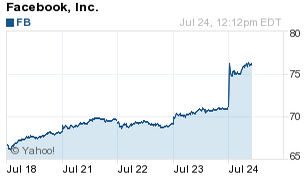 The Facebook stock price has climbed 177% over the past year, making FB the S&P 500's best performer. Analysts remain upbeat and several hiked price targets to $90, which CNBC Jim Cramer says is "absolutely possible."
Industry experts see promise in FB's major push into premium video advertising. JMP Securities analyst Ron Josey succinctly summed up the impressive quarter, saying, "Facebook is firing on all cylinders."
FB stock rose some 7% to an all-time high of $76.74 intraday, is up 39% year to date, and is up more than 100% from its IPO price of $38. Facebook's current market cap of $195 billion is now greater than Amazon's, Merck's, and Pfizer's.
Under Armour Inc. (NYSE: UA) shares soared 15% to a 52-week high of $69.74 following a stellar second quarter and rosy forward guidance. The apparel and footwear maker reported a profit of $17.7 million, up from $17.6 million YOY. On a per-share basis, earnings were flat at $0.08. But, revenue jumped 34% to $609.7 million. Both numbers beat analyst expectations of EPS of $0.07 on revenue of $571.4 million. UA raised its outlook for full-year sales, citing increased visibility and growth in footwear and international sales during the first half of the year. For FY2014, the company expects revenue of $2.98 billion to $3.0 billion, compared with prior forecasts of $2.88 billion to $2.91 billion.
Amazon.com Inc. (Nasdaq: AMZN) shares rose 2% to $364.85 in morning trading. The world's largest online retailer reports Q2 numbers after today's close. Consensus estimates are for an EPS loss of $0.15 on revenue of $19.34 billion, according to Thomson Reuters. That revenue amount would mark a 23% increase YOY. Over the last decade, Amazon has a history of beating EPS estimates just slightly more than it misses. And, the stock is very volatile after earnings days, averaging a 9.5% move either way, according to Bespoke. The company has reported revenue beats at a greater rate of 66.8%, versus the 56.4% beats on earnings per share.
For nine more stocks making big moves today, keep reading…