Real estate websites Zillow Inc. (Nasdaq: Z) and Trulia Inc. (NYSE: TRLA) saw their stocks soar yesterday (Thursday) on rumors that the sector's top two leaders would merge. Z stock surged more than 15.3% to $145.76 and TRLA roared ahead 32.4% to $53.74 after the deal news broke.
But there is little supporting this rise for the long term.
The two real estate search engines are almost identical in what they do. They serve as a portal that connects potential homebuyers with real estate professionals, and together they lead the sector in real estate search traffic.
They are so similar, in fact, that at one point Zillow filed a lawsuit against Trulia, claiming that TRLA's property valuation tools infringed upon Z's patent of their signature "Zestimate" home value estimation service.
But their business purpose isn't the only thing these companies share; there's a more damaging common factor…  
The Problem with the Z-TRLA Deal
What many traders and industry analysts have noticed and commented on is that behind this deal – and surging share prices – are two money-losing businesses.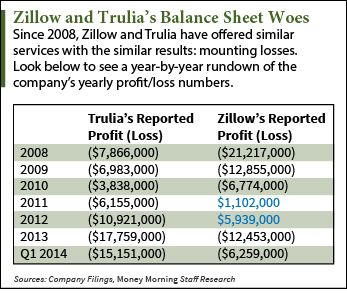 That's why both companies are awash with short sellers – traders taking out bets that the company's shares will fall – with 31.8% of Z shares and 36.7% of TRLA shares floated in short positions, according to FinViz.com.
Z has accumulated a deficit of $84.1 million. Since 2007, Z has turned a profit only twice – $1.1 million in 2011 and $5.9 million in 2012 – before posting another $12.5 million loss in 2013. In the first quarter of this year, Z has already lost another $6.3 million, on pace to top its biggest loss of $21.2 million in 2008.
Similarly, TRLA has an accumulated deficit of $64.9 million, and since 2008, hasn't had one profitable year. The second-largest online real estate website has seen a steady increase in losses since 2010, topping out in 2013 at $17.8 million in the red. Already in the first three months of 2014, TRLA is reporting losses of $15.2 million.
But what is further disconcerting about the two realtors are the macro factors…