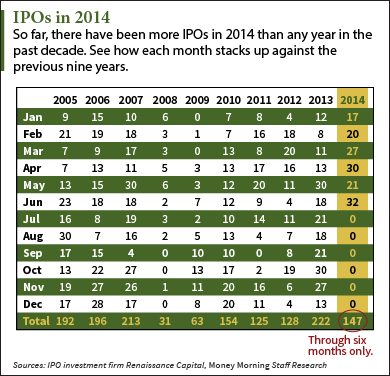 The Synchrony IPO will take place on Thursday, and it's expected to raise approximately $3.1 billion. That would easily make it the largest IPO of 2014 so far, outpacing the $2.6 billion raised by Ally Financial Inc. (NYSE: ALLY)from April.
And while Synchrony Financial (NYSE: SYF) will be the biggest IPO to watch this week, it's just one of 22 companies going public as July wraps up.
According to the Financial Times, this week's 22 IPOs make this the busiest week for IPOs since August 2000. That total may change however, as it's not uncommon for companies to delay IPOs the week they're supposed to begin trading. It's possible some of these deals will be pushed back.
Here's what investors need to know about each of this week's upcoming IPOs.
IPO Calendar July 28 – August 1
Synchrony Financial (NYSE: SYF) is planning the largest IPO of the week and is looking to raise $3.1 billion by selling 125 million shares at a $23 to $26 range. Synchrony is a spin-off company of General Electric Co. (NYSE: GE)and is the financing arm of the company. SYF has been valued at approximately $20.4 billion. In its IPO filing, the company reported revenue of $10.5 billion in the last year. SYF will begin trading on the New York Stock Exchange on Thursday, July 31.
Catalent Inc. (NYSE: CTLT) provides oral, injectable, and respiratory drug delivery technologies to clients around the world. CTLT plans to raise $871 million through its IPO by selling 42.5 million shares between $19 and $22. In the last year, CTLT had revenue of $1.8 billion, and the company is expected to have a valuation of $2.4 billion following the IPO. CTLT will make its public debut on Thursday, July 31.
Mobileye N.V. (NYSE: MBLY) designs software and camera-based technologies for advanced driver assistance systems, and is based in Israel. These systems are designed to prevent automobile accidents. Through its IPO, MBLY is looking to raise $500 million by offering 27.8 million shares at a range of $17 to $19 per share. MBLY had revenue of $105 million in the last year and is expected to have a market value of $4.2 billion following the public offering. MBLY will hit the market on Friday, Aug. 1.
Money Morning members, see the remaining 19 companies that will be holding IPOs this week…