Democrats and Republicans alike in Washington are unhappy about the increasing number of so-called tax inversion deals, but instead of blaming Wall Street they need to look at the real cause of the problem – themselves.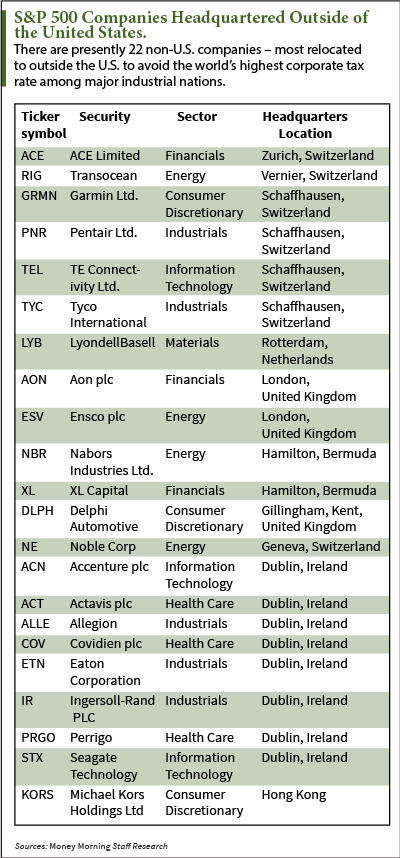 A tax inversion deal is a merger between a U.S and a foreign company specifically designed to allow the U.S. company to move its headquarters out of the United States to escape America's high corporate tax rate.
Several recent high-profile tax inversions, such as AbbVie Inc.'s (NYSE: ABBV) merger with Ireland-based Shire Plc. (Nasdaq ADR: SHPG) and Medtronic Inc.'s (NYSE: MDT) deal to buy Ireland-based Covidien Plc. (NYSE: COV), have resulted in much wailing and gnashing of teeth in our nation's capital.
Walgreen Co. (NYSE: WAG) is thought to be considering a deal, while Pfizer Inc.'s (NYSE: PFE) attempt via a deal with Britain's AstraZeneca Plc. (NYSE ADR: AZN) fell apart.
Over the past 10 years about 50 U.S. companies have reincorporated overseas via tax inversion to tax-friendly countries like Ireland, about half of which are in the Standard & Poor's 500, but the practice has accelerated in recent years.
And it's not surprising that the federal government doesn't like it; the Joint Commission on Taxation has said corporate tax inversion could cost the Treasury as much as $20 billion in tax revenue over the next decade.
President Barack Obama has returned to the topic several times over the past week or so, but urged "closing this unpatriotic loophole for good" in his budget proposal earlier this year.
"Even as corporate profits are as high as ever, a small but growing group of big corporations are fleeing the country to get out of paying taxes," President Obama said in his weekly radio address on Saturday. "They're keeping most of their business inside the United States, but they're basically renouncing their citizenship and declaring that they're based somewhere else, just to avoid paying their fair share."
Democratic leaders like Sen. Chuck Schumer, D-N.Y., have gone a step further, calling for legislation that would not only prevent future tax inversions, but include retroactive language to deprive the sought-after tax breaks to any company that executed such a deal after May 8.
That would affect the AbbVie and Medtronic deals, and create uncertainty among other U.S. companies that might be considering a tax inversion themselves.
But for all the political hot air, the law now being discussed in Washington treats the symptom, not the disease. What the politicians seem to forget is that their own failure to reform the corporate tax laws is the root cause of this problem…