After speculation last week that online real estate search engines Zillow Inc. (Nasdaq: Z) and Trulia Inc. (NYSE: TRLA) would combine their assets for a merger, the companies made this move official before markets opened this morning (Monday).
Trulia stock opened up 12% on the announcement, and Z opened down 4.2%.
Z will acquire TRLA in a $3.5 billion stock-for-stock deal expected to close in 2015. TRLA shareholders will receive 0.444 shares of Z for each share of TRLA, and will own about 33% of the combined company after the deal closes.
"Consumers love using Zillow and Trulia to find vital information about homes and connect with the best local real estate professionals," Zillow Chief Operating Officer Spencer Rascoff said in a press release. "This is a tremendous opportunity to combine our resources and achieve even more impressive innovation that will benefit consumers and the real estate industry."
This isn't the first time Z has made moves to acquire another brand, though it is by far its largest and most expensive.
In 2011, Z spent $6.5 million to buy up Diverse Solutions Inc., a real estate branding company, and Postlets LLC, which provides a platform for renters and sellers to post listings.
In 2012, Z had an even busier year of acquisitions, spending another $67.6 million to acquire RentJuice, an online tool to manage relationships for landlords and property managers; Buyfolio, another broker-client portal; Mortech, a software company providing mortgage quotes; and Hotpads, a home rental search engine.
Then in 2013, Z made its biggest single transaction with a big ticket purchase of StreetEasy, a New York City property-listings website, for $42.7 million.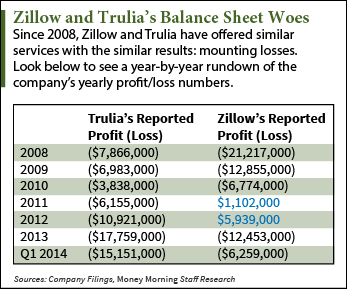 To this point, none of Z's acquisitions have helped the company sustain profits each year, as the real estate website had accumulated $84.1 million in deficits at the end of 2013.
And it's hard to imagine how this $3.5 billion deal will help pull Z out of its profit slump…
TRLA Won't End Zillow's String of Losses
In 2011, when Z made its first round of acquisitions, it was able to generate $1.1 million in profits, the first time in the black in its earnings history since 2007. In 2012, when Zillow continued to expand and purchased four more companies, its profit increased to $5.9 million.
But that wasn't the case in 2013, when Zillow purchased StreetEasy, and Z plunged back into the red, reporting $12.5 million losses on the year.
If Z was looking to reverse this trend of repeated losses – 2011 and 2012 were the only two years where Z reported actual profits, and Z has already netted $6.3 million in losses in the first quarter – then TRLA may not be the company to look toward.