The Virgin America IPO was officially filed today (Monday), as the U.S. airline sent its registration statement to the Securities and Exchange Commission (SEC).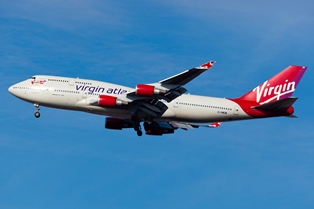 Virgin America Inc. was founded in 2007 by Sir Richard Branson, the British entrepreneur and billionaire.
While Branson created the airline, his company Virgin Group currently owns just 22% of Virgin America's voting stock. U.S. regulations restrict foreign ownership of U.S. airlines to a maximum 25% stake. Branson's minority holding in the company allows the airline to fly between U.S. cities.
Investors have been anticipating a Virgin America IPO for months after the company reported earning $10.1 million on $1.4 billion in revenue in 2013.
That was the first yearly profit the company had reported in its seven-year existence. The company stated that between 2009 and 2012 it lost a combined $395 million. The company also reported another loss in the first quarter of 2014.
While the company hasn't been profitable for much of its history, its revenue has continued to grow dramatically. Virgin America reported that its revenue nearly tripled from 2009 to 2013.
According to The Wall Street Journal, the airline has become more successful recently by adding shorter flights to its listings and by flying less overall.
In today's preliminary filing, the company placed an initial price of $115 million on the deal, but that figure is just a placeholder for now. Placeholder totals are typically set to determine filing fees, and a revised fund-raising target will be released closer to the official IPO date.
No specifics were provided concerning the number of shares that will be offered or about the price range for shares. No estimated value of the company was provided either.
Virgin America counts Los Angeles and San Francisco as its hubs, but it has recently begun expanding to La Guardia Airport in New York, Reagan National in Washington DC, and Love Field in Dallas. This expansion was made possible by the merger of American Airlines Group Inc. (Nasdaq: AAL) and US Airways Group Inc., which were forced to forfeit gates as conditions to the merger.
Company officials said that Barclays Plc. (NYSE: BCS) and Deutsche Bank AG (NYSE: DB) will be lead underwriters on the deal.
Many questions remain regarding the Virgin America IPO, and more details will be released in the coming months. However, one good sign, aside from growing revenue, is the state of other U.S. airline stocks.
It appears that the Virgin America IPO may be coming at the perfect time...