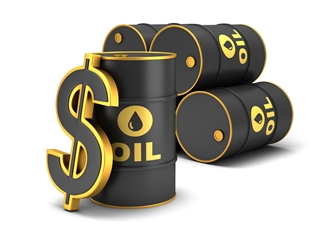 WTI crude oil prices for September delivery were down $1 today (Tuesday) to $100.67 per barrel, while Brent crude dropped $0.17 to $107.39 per barrel, despite the fact that geopolitical tensions in the Middle East and Russia remain.
Oil prices hit two-week highs last week as tensions in the Ukraine and the Middle East intensified.
First, the downing of Malaysian Flight 17 in Ukraine earlier this month created a spike in prices as oil traders were flooded with buy orders shortly following the incident. The jetliner is believed to have been shot down by pro-Russian separatists.
An international team has tried for multiple days to reach the crash site, but intense fighting between rebels and government officials in the area has driven them away.
In response to the Russian-Ukrainian conflict, the European Union appears poised to place new sanctions against Russia. These sanctions would target the country's finance, energy, and defense sectors.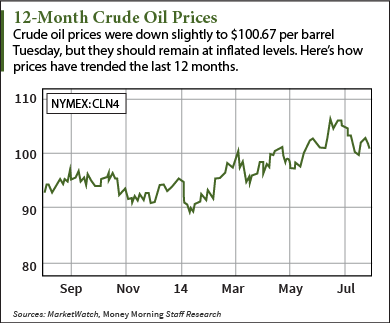 Following the Malaysian Airlines crisis, oil prices were propped up again by the crisis in Israel. Earlier this month Israeli forces sent ground troops into the Hamas-controlled Gaza strip.
Today, CNN has reported that Israel was "prepared for a cease-fire," but is waiting for a decision from Hamas officials in Gaza before entering a truce. Since "Operation Protective Edge" began on July 8, more than 1,000 Palestinians have died, and the UN estimates that 70% of the dead were civilians.
According to Israeli officials, 53 Israeli soldiers have been killed along with three civilians.
The geopolitical tensions in Israel and Ukraine recently overshadowed the crisis in Iraq, which has been taking place since June. Last month ISIS militants began attacking the northern part of the country and the capital city of Baghdad.
The Iraq crisis is ongoing and the Sunni militants in the region have spent much of the last week destroying numerous cultural landmarks. According to The Wall Street Journal, insurgents have destroyed 24 shrines in the northern city Mosul alone, causing thousands of Christians to flee the city in the face of execution.
We asked Money Morning's Global Energy Strategist Dr. Kent Moors just how serious the crises are for energy markets.