Two American pharmaceutical giants reported earnings this morning, both showing flagging sales - but one ended the day with a gain.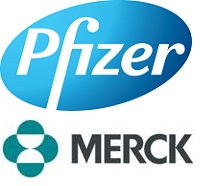 Merck & Co. Inc. (NYSE: MRK) shares gained 1.05% to close at $58.58 while Pfizer Inc. (NYSE: PFE) stock fell 1.23% to $29.73.
In its second-quarter earnings report, Pfizer - the world's largest pharmaceutical firm - reported revenue of $12.8 billion, down from last year's nearly $13 billion mark but above estimates of $12.46 billion. Earnings were down from 2013's second-quarter figure of $14.1 billion all the way to $2.9 billion for earnings per share (EPS) of $0.58.
MRK sales were down a slight 0.7% to $10.9 billion from last year's $11 billion, though sales dropped a lot less than the 3.7% estimated slump that analysts predicted. Profits were up 121.2%, up to $2 billion from $906 million last year, for an EPS of $0.68, below estimates of $0.81.
Both firms also reported progress on regulatory approval for cancer drugs.
PFE expects to complete its new drug application for an advanced breast cancer treatment, palbociclib, by August, and MRK announced that U.S. and European regulatory officials accepted applications for a melanoma drug, pembrolizumab.
And amid a busy M&A year for the healthcare sector, both PFE and MRK grabbed headlines on potential big ticket deals, although for different reasons....
PFE's Failed Bid for AstraZeneca
The biggest second-quarter news was PFE's renewed discussions to acquire British-Swedish pharmaceutical company AstraZeneca Plc. (NYSE ADR: AZN) - marketers of such drugs as Crestor, Entocort, and Nexium - which were initially rejected in January. On May 18, PFE made a final offer to acquire AZN, but the AZN board voted it down and PFE dropped its bid to buy the company.
"We continue to believe that our final proposal was compelling and represented full value for AstraZeneca based on the information that was available to us," Ian Read, chairman and CEO of PFE said in a May press release. "As we said from the start, the pursuit of this transaction was a potential enhancement to our existing strategy."
From PFE's April announcement of renewed merger talks to AZN's rejection, PFE shares dropped 7.6%. Disagreements arose over the valuation of AZN, which PFE priced at around $119 billion.