This is amazing. If you thought there was only one component to the gargantuan student debt scam, think again.
Because here's the thing: If you're about to become a college student, if you're already a college student, or if you're simply in debt and need more credit and plan on becoming a student again, you're in luck.
Financial services giants Discover Financial Services Inc. (NYSE: DFS), Capital One Financial Corp. (NYSE: COF), Bank of America Corp. (NYSE: BAC), Citigroup Inc. (NYSE: C), and U.S. Bancorp (NYSE: USB), to name a few players in the student credit game, are bending over backward for you.
The folks at Discover want you to "Get the card for college and beyond." They've named and registered it as "Discover It Chrome for Students" because, after all, they're "Looking out for you."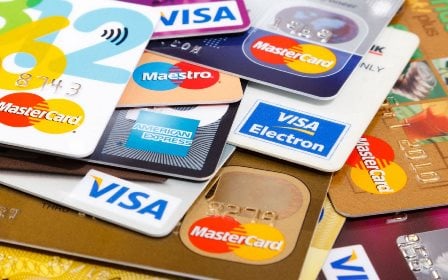 But they aren't the only do-gooders looking out for you. You can also apply for the Capital One Journey Student Rewards Credit Card, the Bank of Americard for Students, the U.S. Bank College Visa Card, or the Citi Dividend Platinum Select Visa Card for College Students.
Heck, why not apply for all of them?
But wait.
Before switching screens to sign your life away – I mean, fill those applications out – let me tell you a little more about this latest attempt to take all your money.
Understanding Your Needs (i.e., You Need More Student Debt)
Don't worry. The credit card companies know all about your student loans – or the loans your parents took out for you. Or that you are parents who have more to learn because you don't have the job skills you need to pay down the debt load you already carry. They know that, after all the money you've already borrowed, you still need more.
They get it.
You need to buy books, food, and gas to take you to and from campus. Or maybe you just want to throw down a card for beers and wings for you and your friends at the pub. They get it.
Not all financial service companies get you. Some get you more.
Just take a look at how much the good people at Discover get you:
Join the conversation. Click here to jump to comments…
About the Author
Shah Gilani is the Event Trading Specialist for Money Map Press. In Zenith Trading Circle Shah reveals the worst companies in the markets - right from his coveted Bankruptcy Almanac - and how readers can trade them over and over again for huge gains.Shah is also the proud founding editor of The Money Zone, where after eight years of development and 11 years of backtesting he has found the edge over stocks, giving his members the opportunity to rake in potential double, triple, or even quadruple-digit profits weekly with just a few quick steps. He also writes our most talked-about publication, Wall Street Insights & Indictments, where he reveals how Wall Street's high-stakes game is really played.