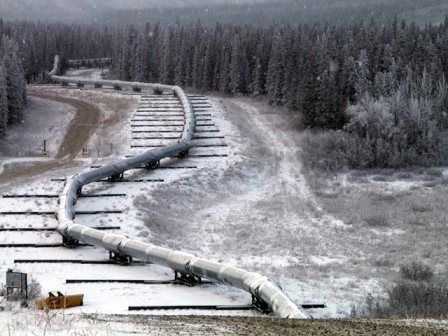 The first oil pipeline was a simple affair: lengths of 2-inch wrought iron pipe that ran five miles, from a Pennsylvania oil field to a train station in Oil Creek.
But that pipeline, built by the Oil Transport Association in 1859, started a revolution. Oil pipelines have changed how and where oil is found, refined, and sold and have turned America into one of the world's leading oil producers.
Most importantly for investors, they don't just pump oil, they pump profits - profits that are there for the taking for those who know how to invest in these pipelines...
Pump It Up
Pipelines filled with crude oil, home heating oil, natural gas, and other liquids are everywhere. The United States, in fact, has the most pipelines in the world, about 2.5 million miles at last count.
And none of them would have happened without the Teamsters Union.
When oil was first found in Pennsylvania, it was hauled in converted whiskey barrels by Teamsters to the nearest railroad, then shipped by train to New York City.
The problem was that the Teamsters charged more for the five-mile horse ride than the railroad did for the remainder of the trip.
When the Teamsters, at the time a transportation monopoly, refused to lower their fees, an oil company built the first pipeline. And an entire industry was born.
It's a very profitable industry, and one that Money Morning Global Energy Strategist Dr. Kent Moors has been recommending for some time.
How Pipelines Work
Today's computer-monitored and controlled pipelines are a far cry from that five-mile pipe.
High-tech data centers monitor oil flow, pipeline conditions, pumps, and valves using sensors and cameras. Pipeline operators also fly over lines, drive alongside them with high-tech "sniffers" to detect leaks, and conduct investigative digs around the lines.
Periodically, companies send high-resolution inspection tools, known as "smart pigs," through the lines to look for dents, leaks, corrosion, and other problems. These tools are so sensitive that, by using ultrasonic or electromagnetic technology, they can find a pit the size of a grain of rice in the pipe wall.
The result is that pipelines are 40 times safer than rail tanks and 100 times safer than road tanks for transporting energy, according to the USA Association of Pipelines. In the United States, oil pipeline spills amount to about one gallon per million barrel-miles. (One 42-gallon oil barrel transported one mile would equal one barrel mile.)
Now let's take a look at how to invest in pipelines for maximum profit - including three of the best picks to get you started...