Penny stocks to watch update: Global mergers and acquisitions have been occurring at an astonishing pace in 2014, with more than $2 trillion in transactions announced year to date - an amount not seen since 2007.
Sectors that have seen the biggest M&A activity over the last three months include commercial services, technology services, consumer services, finance, and health technology, according to FactSet. The average premium paid in deals billed as mergers of equals so far this year is 11.9%, compared with the average of 25.6% paid in other takeovers, according to Thomson Reuters.
And the pace of M&A activity is only expected to continue thanks to low interest rates and companies' flush cash hoards. Indeed, American companies are currently sitting on some $1.53 trillion in cash.
In addition, takeovers fuel more takeovers. When an industry starts consolidating, numerous companies are up for grabs. Large industry players don't want to sit on the sidelines while their rivals grow, and so those mulling potential acquisitions are motivated to act.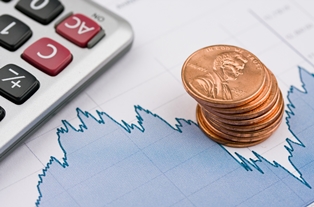 Some of the richest takeover premiums resulting in big share-price gains can come from penny stocks. For example, ZipRealty Inc. (Nasdaq: ZIPR) shares skyrocketed 122% on July 16, surging from $3.02 to $6.70, after Realogy Holdings Corp. (Nasdaq: RLGY), the nation's largest real estate brokerage, announced it is buying ZIPR for $6.75 per share.
Picking takeover targets can be tricky, but a good place to start is niche micro-cap companies with growing revenue.
Following are two penny stocks in "hot" sectors that recently posted solid Q2 results, making them attractive takeover targets.
Two Penny Stocks with M&A Potential
Camtek Ltd. (Nasdaq: CAMT) provides automatic optical inspection systems that examine various types of electronic product components for defects during the manufacturing process. The Israel-based company reported Q2 revenue of $23.2 million on Tuesday, up 4% year over year (YOY). Gross profit totaled $11.5 million (49.5% of revenues), a 17% YOY improvement.
Shares rose some 25% to $4.35 intraday Tuesday after the results.
Rafi Amit, Camtek's chief executive officer, is clearly pleased with the company's results and progress in Q2. Here's what he had to say:
"Our new product strategy is progressing well. With regard to the commercialization process of our 3D Functional Ink-Jet Technology product, Gryphon, our two beta sites have been ongoing for a few months and so far, we are happy with the results. The more we run the machine in a production environment, as well as meeting with potential customers, the more confident we become in our belief that ink-jet technology for solder-mask will be the dominant technology in the PCB industry for years to come. We remain on track and expect initial commercial Gryphon installations at customers to begin in the fourth quarter, with revenues expected in 2015. Our other recently launched next-generation semiconductor inspection and metrology platform for the advanced packaging market, Eagle, is also gaining strong traction especially among leading OSATs (open source appropriate technology)."
With existing businesses expected to show solid results and earnings anticipated to grow, Amit said Camtek is on track for a "good year."
Camtek could be good addition to a bigger company for its 3D printing business alone. Consolidation in the space is expected as the sector matures.
Semler Scientific Inc. (Nasdaq: SMLR) is an emerging medical risk assessment company that develops patented products that assist healthcare providers in monitoring patients and evaluating chronic diseases. The Portland, Ore.-based company posted strong Q2 results Friday.
Q2 revenue came in at $846,000, an increase of $371,000, or 78%, compared to $475,000 in the same period a year ago. Cash on hand totaled $6,544,000 at the end of Q2, up from $734,000 at the end of 2013.
"The second quarter of 2014 continued to be productive for Semler," said CEO Doug Murphy-Chutorian, MD. "We attracted seasoned talent to our team, grew revenue, built relationships with insurance plans and progressed in product development."
The company's primary focus in Q2 and the first half of 2014 was to grow its client base of insurance plans with Medicare Advantage patients.
"We have been successful in having initial FloChec (devices placed on fingers to measure blood flow) installations started or planned to start at four of the largest Medicare Advantage plans in the United States. Of note, the top 15 payors account for more than 70% of the entire Medicare Advantage market, which emphasizes the importance of establishing business relationships with these large insurance providers."
The company has the funds and revenue, and is growing its market share, to drive more upside potential as well as outside interest.
Shares of this penny stock were up 2% to $3.50 in Wednesday's morning trading.
Up Next: One of the best techniques for finding penny stocks to buy is finding industries experiencing tremendous growth. And the good news for investors is that we've found three penny stocks that could profit from two growing industries...
Related Articles: