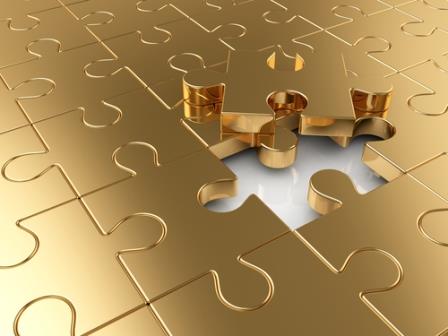 Gold market news, July 31, 2014: On July 25, South Africa's Rand Refinery - the biggest processing facility for gold in Africa and one of the largest worldwide - announced it will receive a shareholder loan to make up for "lost" 87,000 ounces (2.7 tons) of physical gold in its inventory. The press release describes what amounts to a $112 million loss at current gold prices.
Rand Refinery typically processes around 380 tons of gold annually. Since its founding in 1920, it has refined approximately 50,000 tons of the yellow metal - nearly one-third of the world's total gold mined worldwide. It's also the largest integrated single-site precious metals refining and smelting facility on the globe.
According to Rand's July 25 statement, the refinery could not draft its 2013 annual report due to an error in its recently adopted "enterprise resource planning" (ERP) software.
"Following the adoption of the ERP system in April last year, Rand Refinery experienced implementation difficulties which have led to a difference between the actual inventory and the accounting records of approximately 87,000 ounces of gold. Uncertainty around the true position has prevented the Company from being able to finalise its annual financial statements for the financial year ended 30 September 2013. This information has been shared with the Company's regulators, shareholders, insurers and banks. Rand Refinery's operations are unaffected by this matter and the processing of gold continues at full capacity."
Rand "requested financial assistance from Shareholders as a precautionary measure, should resolution of the difficulties result in a financial loss for the Company."
Major shareholders - some of the largest gold mining companies in the world - agreed to a R1.2 billion ($112 million) loan. AngloGold Ashanti Ltd. (NYSE ADR: AU), a 42.41% shareholder, agreed to provide R572 million. Sibanye Gold Ltd. (NYSE ADR: SBGL), a 33.15% shareholder, will provide R448.5 million. Harmony Gold Mining Co. (NYSE ADR: HMY) will pay R140.4 million and holds a 10.38% stake. Finally, Gold Fields Ltd. (NYSE ADR: GFI), with its smaller 2.76% stake, will provide R37.3 million. Eleven percent shareholder DRDGold Ltd. (NYSE ADR: DRD) agreed that the refinery should obtain support, but did not participate in the loan.
According to Sibanye Gold spokesman James Wellsted and reported by Business Report, customers of Rand have received the prices they were expecting, leading them to conclude the missing gold is indeed most likely an accounting problem, rather than theft.
The vanishing of 2.7 tons of gold from Rand's inventory on a computer error is the second time the refinery made big gold market news this year...
In May 2014, Rand Refinery Chief Executive Officer Howard Craig resigned his position for unknown reasons.
Craig had served on Rand's board of directors since 2007, and was appointed as CEO in October 2009. Mark Lynam, formerly senior vice president treasurer of AngloGold, is now serving as interim chief executive for Rand.
The latest incident comes at a time when investors are making a killing in gold mining stocks. Some that have delivered some eye-popping returns for investors in 2014 - and aren't on the list of companies paying Rand Refinery for missing gold - include Osisko Mining Corp. (TSE: OSK), which has gained 83.44% year to date; Primero Mining Corp. (NYSE: PPP) is up 79.05%; and Agnico Eagle Mines Ltd. (NYSE: AEM) is up 54.51%.
Money Morning Resource Specialist Peter Krauth identified two gold mining stocks he predicts will continue to benefit in coming months - one company's gold-equivalent production is expected to grow by 44% over the next three years, and the other just underwent an acquisition that Krauth believes will vault production up some 180% by 2016. You can get those picks - for free - here...
Do you invest in gold stocks? What companies do you have on your radar? Join the conversation on Twitter @moneymorning using #Gold, or connect with our Money MorningFacebook page.
Related Articles: