The Tesla earnings report will be delivered after the bell today (Thursday) and analysts are expecting Tesla Motors Inc. (Nasdaq: TSLA) to report earnings per share (EPS) of $0.04 on revenue of $810.6 million.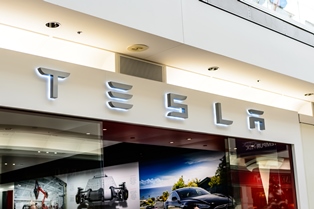 Those EPS estimates show a stark decline from last year's EPS of $0.20, but the revenue estimate does show projected growth of nearly 47%. Tesla has beaten earnings estimates for four consecutive quarters and by an average of nearly 76%.
While the initial focus from the Tesla earnings report will be on EPS and revenue, there is much more that investors and analysts will be focusing on...
Tesla Earnings: What to Watch For
The first thing to watch in today's Tesla earnings report is any update on the company's delivery total. Earlier in the year, Chief Executive Officer Elon Musk stated that he wanted the company to deliver 35,000 vehicles by the end of 2014. Investors will want to see how TSLA is progressing toward that goal halfway through the year.
"I want to see a projection on car sales," Money Morning's Defense and Tech Specialist Michael Robinson said. "They're looking for 35,000 by the end of the year. They don't need to hit that figure exactly, but I want to see that they're on track. If they're well below that projection that would concern me, because this is a growth company."
Last week, Tesla announced that it was halting production at its Fremont, Calif., plant to perform upgrades that will allow it to begin producing its second vehicle - the crossover SUV named Model X. According to the company, production will be stopped for two weeks, but the factory upgrades will help the company increase overall production by 25%.
That production is another area investors will focus on. Musk has said he wants to reach weekly production of 1,000 vehicles by the end of 2014. Currently, Tesla is producing around 800 per week.
But delivery and production totals aren't the only important factors for Tesla in today's earnings report. Money Morning Members, keep reading for the rest of the areas that bear watching...
According to Robinson, it will be important to see how Tesla is progressing in the development of its "supercharger" network in Europe. The automaker has been steadily adding to its networks across the world, and Europe is a particularly important market.
"I want to see how they stand on their relationship to Europe and their superchargers," Robinson said. "The market has become very green-centric in Europe. The EU is focusing on renewables and this is a big opportunity for them."
Finally, any updates about the Tesla Gigafactory would be a huge story. It's unlikely that the company will make any major announcement on the factory today, however - although Tesla did just announce a partnership with Panasonic.
Reportedly, Tesla is still deciding between locations in Arizona, California, Nevada, New Mexico, and Texas.
"I'm looking for anything to do with the Gigafactory, but I don't think they're going to announce anything just yet. I think they're still deciding on a location," Robinson said.
Following today's earnings report, here's what investors can expect for TSLA stock.
TSLA Stock After Tesla Earnings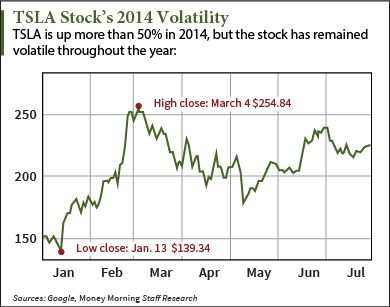 As a momentum stock, TSLA is very susceptible to the news, and today's earnings report should showcase that. Any good or bad news from the report should send the stock moving several percentage points accordingly.
TSLA has been extremely volatile throughout 2014. Year to date, TSLA is up more than 52%, but that hasn't been a smooth gain. From early March through early May, TSLA stock dipped more than 27%. In July, TSLA is down almost 5%.
Based on that volatility, TSLA is still not a short-term play at the moment. However, the innovation of the company and its visionary CEO, Elon Musk, make this a great long-term investors looking for an aggressive play.
"Tesla has enormous long-term potential. After the supercharger technology is in place and built up, it's a much more marketable car," Robinson said. "The best way to play the stock is for the long-haul. Musk is really a great visionary."
Money Morning's Chief Investment Strategist Keith Fitz-Gerald also says that the long-term potential for TSLA stock is undeniable.
"I think Elon Musk is one of the most dynamic CEOs on the planet, and I believe he has the potential to make Tesla a $1,000 stock within the decade," Fitz-Gerald said.
Today's Top Story: The fourth iteration of the Central Bank Gold Agreement (CBGA) has just been signed. But the real story isn't that the deal was signed, it's who hasn't signed... and what they're doing with their gold...