U.S. job growth slowed more than expected in July, resulting in a rise in the unemployment rate, according to the July jobs report just released today (Friday) by the U.S. Department of Labor.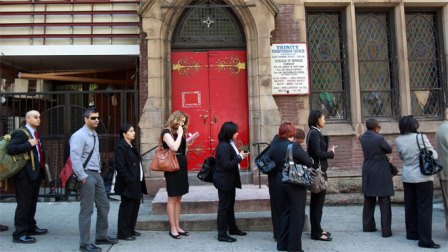 After surging (a revised) 298,000 in June, nonfarm payrolls increased by 209,000 last month. The unemployment rate ticked up to 6.2% from 6.1%.
Economists had expected payrolls to increase 233,000 in July and the unemployment rate to hold steady at 6.1%.
Still, July's gains mark the sixth consecutive month that employment expanded by more than 200,000, a stretch not seen since 1997.
"The report portrays a labor market that is doing ok but not great," Steven Pressman, professor of economics and finance at Monmouth University in Long Branch, N.J., told Money Morning. "There was some good news, some mixed news, and some bad news in the report. The fact that the labor market has done reasonably well over the past several months is itself a good sign. This may lead to greater confidence by business firms and consumers, which should spur economic growth and more hiring in the future. However, I continue to wait for the labor market to pick up a bit more before I am willing to declare victory over the consequences of the Great Recession."
Indeed, the report points to some slack still lingering in the labor market. It also gives the U.S. Federal Reserve some additional wiggle room to keep interest rates low for a while longer. "A range of labor-market indicators suggests that there remains significant underutilization of labor resources," the Federal Open Market Committee said in a statement on Wednesday.
And what has been missing from job gains since the economic recovery is better wages. The July jobs report revealed no improvement in that area.
Following are a dozen key takeaways from Friday's closely watched jobs report.