Gold prices declined 3.29% in July. Gold kicked off the month at $1,327.50 an ounce on July 1, and finished at $1,285.25 on July 31.
The highest close for gold prices occurred on July 10 with $1,340.25 an ounce; the lowest close was on the final day of the month, and was also a five-week low.
Gold's still up for the year – as the following gold price chart shows – but has had a bumpy ride.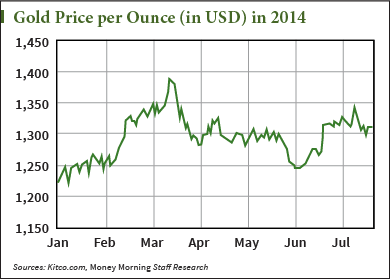 August Comex gold was last down $12.70 at $1,282.50 an ounce on July 31. Spot gold was down $12.90 at $1,281.60 an ounce.
Here's a recap of the top gold news that shaped the yellow metal in July…
What Moved Gold Prices in July 2014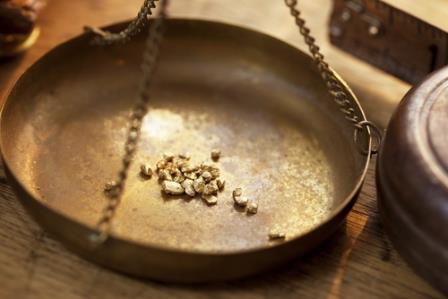 One big reason gold was expected to gain this month is the severe geopolitical contests happening today.
In the Middle East, Israel launched a military offensive in the Gaza strip in early July. As of Friday, 3,209 targets in Gaza had been struck by Israel, 2,153 rockets were launched at Israel from Gaza, 800 Palestinians have died, and there have been 36 Israeli deaths, according to The New York Times. The escalation in violence between Israel and Gaza militants has become the worst since November 2012.
The second conflict involves Russia and Ukraine. On July 17, the price of gold spiked when news that Malaysia Airlines Flight 17 – a passenger plane that carried 298 people – was potentially shot down by pro-Russian separatists in Ukraine. Flight 17 was just the tip of the iceberg – last week, the Obama administration announced plans to introduce further sanctions against Russia and its President Vladimir Putin if the Duma refuses to quell political and social unrest in the region. The European Union is preparing to ban its citizens from buying or selling bonds or stocks from Russia's largest banks.
"Geopolitics remains on the front burner of the market place. Tensions in Israel and Ukraine remain high. Pundits are now saying the U.S.-Russia relations have deteriorated to Cold War levels," metals analyst and Kitco columnist Jim Wyckoff wrote on July 22.
Gold is a safe-haven investment, and tends to see gains when fear arises. Indeed, the morning Flight 17 was shot down, spot gold had gained 1.3% by midday, and August gold futures climbed by $9 an ounce.
"Some investors are buying gold as the Middle East region is very tense," R.J. O'Brien & Associates senior commodity broker Phil Streible said in a telephone interview with Bloomberg. "We have been seeing an increase in the safe-haven premium since the violence in Ukraine started."
Amidst the tension, the gold prices had rallied with a 9.5% gain in 2014 through mid-July.
But as the yellow metal climbed higher, investors hunting for profits triggered the biggest one-day drop for gold prices in 2014…