WTI crude oil prices settled back down below $100 per barrel this week, but according to Money Morning's Global Energy Strategist Dr. Kent Moors, oil prices may not stay that low for very long.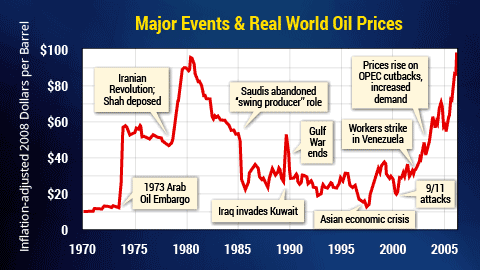 "Whenever a conflict occurs in an oil-producing country, oil prices rise," said Moors. "It's one of the most predictable patterns in the markets."
This chart shows exactly how prices have surged following major geopolitical events from the past four decades.
However, unlike the previous conflicts of the last 40 years, the current situation in Iraq has the potential to push prices to unprecedented levels.
In fact, Moors sees a potential scenario where crude oil prices double from where they are right now...
Today's Iraq Conflict Is Like No Other
While Iraq has been the center of political and military strife for decades, this situation is very different from any conflict that has come before. The current situation in Iraq is a religious war, between the Sunni militants and Shiite Muslims.
It's a humanitarian crisis that spans political, religious, and territorial borders.
The situation escalated in June when Sunni militants from the Islamic State of Iraq and Syria (ISIS) began attacking cities in the northern part of the country, in an attempt to overthrow the Sunni-controlled government.
By overthrowing the government, ISIS plans to create an Islamic state that spans from northern Iraq into northern Syria. That would effectively splinter the area into numerous new countries, many of which would be controlled by radicals.
In the month of June, militants overtook much of northern Iraq including the country's second largest city, Mosul, the city of Fallujah, and one of the country's largest oil-producing provinces, Kirkuk. The fighting also bled across the Syrian border.
The fighting has left the country on the verge of disintegration, as Sunnis, Shiites, and Kurds in the northern region wrestle for control.
By the beginning of July, more than 500,000 civilians in these regions had been forced to flee their homes.
The insurgency has affected major oil fields and refineries in Northern Iraq, where much of the country's proven oil reserves are located. Iraq's overall oil production is currently near 3.3 million barrels a day, with much of that coming from the north. Five main oil fields in Kirkuk alone account for roughly 500,000 barrels of oil per day.
The violence has not yet affected the southern part of the country where Iraq's oil exports originate, but it has still affected oil prices. WTI crude hit its highest price since 2011 in June, when a barrel cost $106.64.
And $106 per barrel is cheap compared to how high oil prices can go...
The Case for $200 Oil
Even with the export region untouched so far, "the price of oil will continue to rise in the long run, simply out of fear and uncertainty," Moors said. "It is merely the fear of disrupted supply that causes the risk premium on oil to rise."
While uncertainty is currently the main driver of higher crude prices, what could make them soar to record levels is the threat posed to Iraq's oil production.
"Right now, Iraq accounts for 4% of the world's global oil production," Moors said. "That may not seem like a big percentage. But a complete loss of Iraqi production would spike the world oil price up to at least $200 per barrel in a heartbeat."
The Iraq conflict comes at a time when global demand is reaching an unprecedented level. The U.S. Energy Information Association has estimated that global demand will reach 100 million barrels a day by 2018. That's up from just 78 million barrels 10 years ago.
At the same time, eight of the 12 OPEC member countries are experiencing a production decline. That of course emphasizes the importance of Iraq's oil production.
"If even just a third of Iraq's oil production went offline, former military leaders and energy experts warn that crude oil prices will go up an additional $40 per barrel," Moors said.
Now, according to Dr. Moors, the chaos in the Middle East is about to "go global." To get the full report, including what it means for your money, just go here.
As you'll see, a select group of companies is set to benefit in a very big and unique way.
Share this story on Twitter @moneymorning and @KyleAndersonMM using #Oil.
Related Articles: