Last week, tiny Windstream Holdings Inc. (Nasdaq: WIN) unveiled a "game-changing" strategy that turned the entire telecom sector upside down.
The rural telephone company announced a breakup plan that will transform the company from a sleepy dividend payer into a deal-making broadband firm.
WIN shares jumped a stunning 12.4% in a single session. And telecom stocks soared across the board as folks grasped the sector-wide windfall opportunity this makeover strategy has created.
Several rural carriers experienced single-day price spikes of as much as 16%. And even the big boys – AT&T Inc. (NYSE: T) and Verizon Communications Inc. (NYSE: VZ) – reaped the benefits.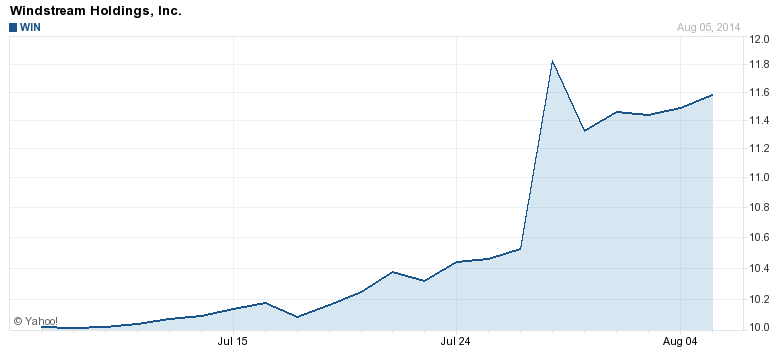 We recommended Windstream in Strategic Tech Investor back on May 2. And folks who followed our lead are now sitting on a 29% gain.
But this is just the start. With this single move, the Little Rock, Ark.-based Windstream has rewritten the rules on telecom competition. Rivals will have to react or fall behind.
Now it's time to look at where Windstream will take the sector next: The money that's been made to date will be dwarfed by what's to come.
You just have to understand how to play this…
WIN Just Gave Investors a Telecom "Twofer"
Windstream's "gift" is one of our favorites – a "spin-off."
It plans to spin off its network assets, including fiber-optic and copper lines, into an independent, publicly traded real estate investment trust (REIT).
Windstream operates in 48 states and 86 metropolitan markets. It has 115,000 miles of high-speed fiber-optic cable for web and voice service, with broadband accounts accounting for nearly three-fourths of sales. It runs 26 data centers throughout the United States and counts more than 600,000 business clients and 3.3 million residential consumers.
Most REITs, securities that sell like a stock on the major exchanges, focus on commercial real estate such as office buildings, apartments, warehouses, hotels, and shopping centers. And they make their money through rent.
This, however, is a highly unique and unusual deal. Here's why…
Join the conversation. Click here to jump to comments…
About the Author
Michael A. Robinson is one of the top financial analysts working today. His book "Overdrawn: The Bailout of American Savings" was a prescient look at the anatomy of the nation's S&L crisis, long before the word "bailout" became part of our daily lexicon. He's a Pulitzer Prize-nominated writer and reporter, lauded by the Columbia Journalism Review for his aggressive style. His 30-year track record as a leading tech analyst has garnered him rave reviews, too. Today he is the editor of the monthly tech investing newsletter Nova-X Report as well as Radical Technology Profits, where he covers truly radical technologies – ones that have the power to sweep across the globe and change the very fabric of our lives – and profit opportunities they give rise to. He also explores "what's next" in the tech investing world at Strategic Tech Investor.