Richard D. Kinder, the Houston billionaire behind the Kinder Morgan Inc. (NYSE: KMI) empire, announced late Sunday he is combining his pipeline offshoots under one roof. KMI stock soared on the news 15% intraday to a 52-week high of $42.49.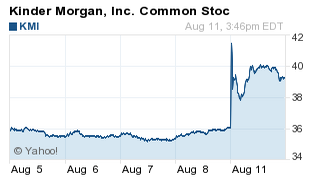 In a series of transactions, KMI will acquire all of Kinder Morgan Energy Partners LP (NYSE: KMP), Kinder Morgan Management LLC (NYSE: KMR), and El Paso Pipeline Partners LP (NYSE: EPB) for about $40 billion in stock and $4 billion in cash. KMI will also assume $27 billion in debt, bringing the total transaction value upwards of $70 billion.
When combined, the company will be the largest energy infrastructure enterprise in North America. Its cumulative 80,000-mile network of pipelines pieced together would be long enough to circle the Earth three times over.
Upon completion, expected by year's end, only Kinder Morgan will exist. Shareholders of the other three companies will receive a combination of cash and shares at premiums ranging from 12% to 16.5% based on Friday's closing price.
Shares in all four companies gushed higher Monday on the news.
KMP shares surged nearly 25% to a 52-week high of $98.67. KMR shares jumped 23% to a 52-week high of $99.77. EPB shares climbed 24% to $42.50, just shy of their 52-week high of $43.15.
Kinder Morgan is folding the units into one entity amid increasing shareholder pressure. Investors have expressed concerns over the companies' growth prospects, profitability, and complicated financial structures.
The consolidation nicely positions Kinder Morgan to take advantage of some potentially lucrative purchases and expansion projects opened up by the explosive American shale boom.
Indeed, the new Kinder Morgan will boast an estimated enterprise value of roughly $140 billion: $100 billion in market value and $40 billion of debt. That elevates Kinder Morgan's stature, making it the third-largest energy company in the United States, behind only the behemoths Exxon Mobil Corp. (NYSE: XOM) and Chevron Corp. (NYSE: CVX).
"This simplifies the structure and will allow us to get to this turbocharged growth," Chief Executive Officer Richard Kinder said in an interview.
The move is also a big deal because it takes Kinder Morgan away from the popular Master Limited Partnership (MLP) structure.
Kinder Morgan (KMI) Leaves Behind MLP Set Up – Others Won't Follow
To be legally classified as an MLP, a partnership must derive most (90%) of its cash flows from real estate, natural resources, or commodities.