In case you were wondering why investors went bananas over Chiquita stock (NYSE: CQB) this week...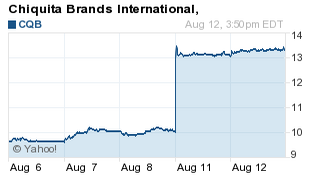 Shares of the Charlotte, N.C.-headquartered Chiquita Brands Inc. soared 30.22% to $13.10 Monday after receiving an unsolicited $625 million takeover offer from a pair of Brazilian companies aiming to spoil Chiquita's plans to merge with Ireland fruit firm Fyffes.
Chiquita stock rose another 2% today (Tuesday).
Presently courting Chiquita are Cutrale, one of the world's largest orange juice suppliers with plants in Brazil and Florida, and investment firm Safra Group, which has roughly $200 billion in assets under management.
The duo has offered to fork over $13 in cash for each outstanding share of Chiquita, a 29% premium to Chiquita's closing price before the bid was made.
The South Americans' proposal came five months after Chiquita said it was merging with Fyffes, which distributes fruit across Europe.
In March, Chiquita announced it was acquiring Fyffes in a $526 million deal. The combined company, to be named ChiquitaFyffes, was expected to generate about $4.6 billion in annual revenue, shipping about 160 million boxes of bananas a year.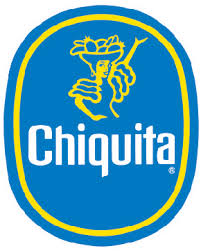 The all-stock deal would combine Chiquita, with robust sales in the United States, with Fyffes, which boasts a strong European presence, to create the world's largest banana company.
The two companies are no strangers. In 1986, an Irish distributor then known as Fruit Importers of Ireland acquired the Fyffes brand from United Brands - the company now known as Chiquita.
Chiquita and Fyffes said the main advantage of a combination was to create a company with increased revenue that could also find cost savings across its vast distribution networks. By eliminating duplication in shipping efforts, among other things, the companies said they expected the union to save at least $40 million annually by the end of 2016.
With Fyffes under its umbrella, Chiquita would lead the industry, controlling 27% of global banana sales. That just ekes ahead of Dole's 26% share. (Dole was taken private in November 2013.)
While the deal is small compared to this year's burst of multibillion-dollar transactions, it garnered headlines because it is one in the latest string of so-called corporate tax inversions.
Chiquita and Fyffes Tax Inversion Appeal
A Chiquita-Fyffes union was indeed designed to take advantage of the Emerald Isle's appealing 12.5% corporate tax rate via a corporate inversion.