Intercept Pharmaceuticals Inc. (Nasdaq: ICPT) stock surged 45% today (Tuesday) to a new 52-week high of $349.08 after the company reported Q2 results and provided promising updates on several of its key drugs.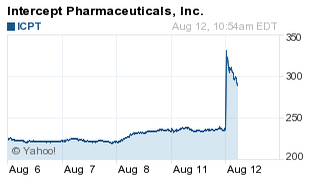 Tuesday's meteoric gains were expected after ICPT stock soared 65% to $378.50 after-hours Monday following the company's reports.
What sent ICPT shares skyrocketing was new data on the biopharmaceutical company's experimental fatty liver drug, obeticholic acid (OCA).
The trial-stage drug is used in the treatment of fatty liver nonalcoholic steatohepatitis, or NASH. NASH, a liver-damaging disease, is estimated to affect up to 5% of Americans. Presently, very few good treatment options for the disease exist.
It's hoped that Intercept's OCA could change that.
Data showed OCA had a less harmful impact on patient's cholesterol levels than previously thought. The drug stopped liver scarring (improvement) in 46% of patients who received the treatment in clinical studies versus 21% taking a placebo.
Study participants receiving OCA experienced increases in LDL cholesterol, or "bad" cholesterol, by the end of the 72-week treatment period, rising nine points on average from a baseline of 112. However, 24 weeks after treatment ended, LDL levels in patients taking OCA had declined 12 points from the baseline, which Intercept explained may have been due to "more rigorous cholesterol management," such as the use of anti-cholesterol drugs.
Intercept Chief Executive Officer Mark Pruzanski said the results gave the company "increased confidence" in OCA.
Intercept said it is working with the U.S. Food and Drug Administration to expedite development and bring the drug to market.
Late-stage trials are expected to begin in the first half of 2015. The company also is testing the drug to treat primary biliary cirrhosis, an autoimmune disease in which bile ducts in the liver are destroyed.
Analysts believe the drug has multibillion-dollar sales potential should it gain regulatory approval and hit the market.
Tuesday, research/investing firm Leerink Swann upgraded ICPT to "Outperform" from "Market Perform."
Intercept (Nasdaq: ICPT) Stock's Rollercoaster Ride in 2014