WTI oil prices were down this morning (Wednesday) to a low of $97.06 for September contracts, after the Energy Information Administration (EIA) reduced its 2014 price forecast yesterday.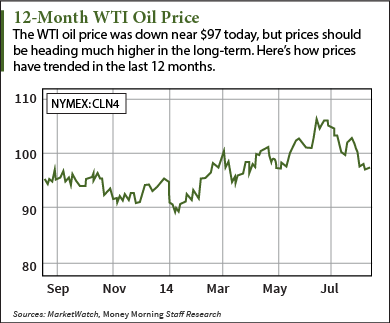 Citing increased oil production in the United States, the EIA dropped its 2014 forecast for WTI oil prices to $100.45 per barrel. In July, the EIA had projected a price of $100.98 per barrel.
The EIA also lowered its forecast on Brent crude from $109.55 to $108.11 for the rest of 2014.
According to the EIA, crude production in the United States is expected to reach 8.46 million barrels per day by the end of 2014 and 9.28 million per day in 2015. That's the nation's highest average in 42 years.
At the same time, global demand is expected to drop slightly. In July, worldwide demand was at 91.62 million barrels per day. The EIA expects global demand to average 91.56 million barrels a day for the rest of the year.
High U.S. production is also why oil prices have dipped this month. The WTI oil price has been steadily declining since hitting a high of $106.64. At the time, the crisis in Iraq escalated rapidly and oil traders flooded the market with buy orders. Since then, the conflict in Iraq has been contained mostly to the northern part of the country and parts of Syria.
The southern region of Iraq is responsible for the country's exports and has been unaffected so far by ISIS (Islamic State of Iraq and Syria) militants.
The fact that Iraq's export region has yet to be hit with the crisis has led to a price correction from June's inflated highs, and yesterday's report of increased U.S. production and decreased global demand further deflated the WTI oil price.
But according to Money Morning's Global Energy Strategist Dr. Kent Moors, oil prices will be heading much higher in the long term, despite the short-term outlook of the EIA...
Why the WTI Oil Price Is Headed Much Higher