Monster Beverage Corp. (Nasdaq: MNST) stock jumped more than 32% this morning (Friday) after the company announced that The Coca-Cola Co. (NYSE: KO) had acquired a 17% stake in the energy beverage company as part of a new long-term partnership.
Through the deal, Coke will be paying approximately $2.15 billion in cash and will be transferring its energy drink division to Monster. MNST will be providing shares and will transfer its non-energy drink business to Coca-Cola. Coke will also be contributing two members to Monster's board of directors.
Terms of the deal dictate that Coca-Cola can increase its stake in Monster up to 25%, through either purchases on the open market or through another negotiated transaction.
News of the deal sent MNST stock as high as $94.93 on Friday, its highest price since 2006.
A deal between the two companies has been rumored for some time, as Coca-Cola attempts to expand its business in the face of dropping U.S. soda consumption.
Soda sales in the United States have declined for nine consecutive years and were down 3% in 2013. However, energy drink sales are growing rapidly and were up 5.5% in 2013.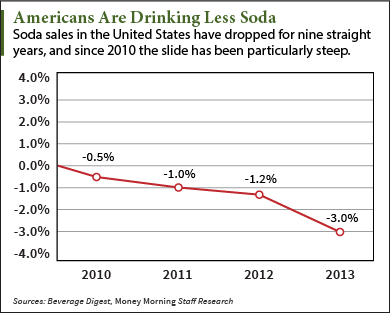 According to research by IBISWorld, energy drink sales generate $6.8 billion in annual revenue in the United States. The same research predicts annual growth of 9.7% for the industry through 2019.
Through the partnership, Coke and Monster will also begin sharing marketing and production. The two companies already have a distribution partnership, as Coca-Cola distributes all of Monster's products in the United States. This partnership will expand however, as Coca-Cola will strengthen Monster's global presence.
"It gives them exposure to one of the fastest-growing segments of carbonated soft drinks globally," Sanford C. Bernstein & Co. Analyst Ali Dibadj told Bloomberg. "The category's growth is clearly slowing in the U.S., but the potential is very strong globally."
The deal makes sense for both companies. By lending each other control over different beverage brands, both companies can focus on what they do best: Monster with energy drinks and Coca-Cola with soft drinks.
"It's a positive and smart move by both companies," Beverage Digest Editor John Sicher told The New York Times. "It will strengthen Coke and the Coke system, and the Coke system will strengthen Monster."
For MNST shareholders, today's gains may be just the start. Hitching to the world's largest beverage company should have huge ramifications...