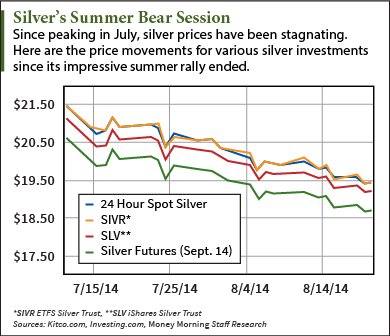 Silver prices are having a tough session, and traders who saw August as a month to rebound from a bearish July are wondering why silver is going down.
This week, the bid price for 24-hour spot silver is trading down $0.17 for a 0.7% loss. Its closing price as of yesterday was $19.415 an ounce, a 0.8% drop on the year. Silver began trading down on the year this past Friday for the first time since June.
And in August, silver prices have fallen 4.7%, making for the second-worst month of trading on the year, compared to March when the white metal fell 6.9%. Unless there is some sort of rally before month's end, this could be the worst August for silver since 2008, when prices fell 22.9%.
Silver futures contracts are down $0.10 on the week to $19.49. This is a 4.8% drop on the month, and a loss of about a dollar.
This decline in physical and paper silver is also reverberating in silver exchange-traded funds. The flagship silver ETF, the iShares Silver Trust (NYSE: SLV), which is backed by physical silver bullion in JP Morgan Chase & Co. (NYSE: JPM) vaults in New York and London, is down $0.13 on the week to $19.18 and $0.98 on the month. A close alternative to SLV, the ETFS Silver Trust (NYSE: SIVR) is down $0.17 on the week and $0.89 on the month, trading at $18.69.
Here's why prices are falling, and why we're still bullish…
Silver Will Reverse Its Fortunes
While it's true that silver is suffering from one of its worst months on the year, it has done this before, and the last time this happened it preceded a bull rally. And what's more encouraging is that in both instances the drivers were similar…