The August IPO calendar was not nearly as full as previous months, with just 10 companies holding initial public offerings.
That's a stark contrast from the rest of 2014. Through this week, 190 companies will have held initial public offerings, making it the busiest year for IPOs since the end of the dot-com era in 2000.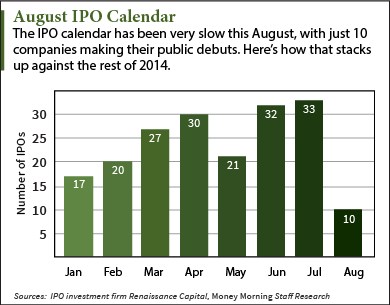 Before August, each month of 2014 had averaged more than 25 IPOs. July was the busiest month of the year, with 33 companies debuting their shares.
According to Renaissance Capital, the 180 companies that held IPOs prior to August raised a combined $39.7 billion. That's an average of $5.67 billion per month.
If this week's only IPO, Zosana Pharma (Nasdaq: ZSAN), reaches its funding goal, the IPOs of August will have only raised a combined $970 million. 
While this month's dip in IPO activity is certainly pronounced, an August IPO swoon is common. Companies generally prefer to wait until the fall to hold their IPOs, as much of Wall Street uses late summer for one last vacation. The empty desks make it harder to generate buzz for investing in a new offering.
But the IPO market is set to pick back up in September, and it includes one of the largest initial public offerings in U.S. history...In fact, the size of this IPO is another reason the IPO calendar has been lighter than in weeks past...
Alibaba IPO Casts a Shadow
The massive Alibaba IPO has deterred other companies from going public too close to its expected debut.
Alibaba is preparing for one of the most highly anticipated IPOs of all time, with most analysts expecting the deal to raise roughly $20 billion. That would make the Alibaba IPO the largest in U.S. history, surpassing the $19.65 billion Visa Inc. (NYSE: V) raised in its 2008 IPO.
The size of that IPO has some companies delaying their own initial public offerings. They want to avoid pricing their shares around the same time and getting buried under the Alibaba headlines. According to The Wall Street Journal, Citizens Bank Financial Group Inc. already delayed its deal because of that.
"Alibaba is going to get a lot of attention, and people will be distracted by it," Little Bear Investments LLC principal Zachary Prensky told The Journal.
But following the Alibaba IPO, it's expected that the IPO market will rebound in a big way...