Digital Ally Inc. (NYSE: DGLY) stock's wild ride continued again this morning (Tuesday), as shares quickly jumped to $16.24, a 30% gain from yesterday's closing price of $12.50.
At today's high, the DGLY stock price is now up 344% since last Monday's closing price.
Digital Ally develops wearable cameras that received an influx of attention following the fatal police shooting of an unarmed teenager in Ferguson, Missouri, earlier this month. The shooting of 18-year-old Michael Brown on Aug. 9 led to a major petition that would require police officers to wear cameras while on duty.
The company issued a press release last week saying that inquiries into its FirstVU HD Body Cameras had increased dramatically due to the unrest in Ferguson.
"The unfortunate events in Ferguson, Missouri, have clearly awakened the law enforcement community to the risks associated with inadequate audio/video documentation of virtually all activities that occur when officers on duty interact with the public," Chief Executive Officer Stanton Ross said. "Some state governments are considering legislation that would require all law enforcement vehicles and officers to be equipped with some sort of audio/video recording capabilities."
The FirstVu camera is pricey, retailing for $795 each on the company's website. The company notes that they are very small in size and can be pinned to shirts, or affixed on eyeglasses.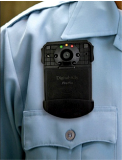 But it wasn't just Digital Ally's cameras that saw an increase in inquiries. DGLY stock became an extremely hot commodity following the incident.
Yesterday, more than 24 million DGLY shares exchanged hands, making it one of the most heavily traded stocks on the Nasdaq, according to Reuters.
In the last five trading sessions DGLY has had an average trading volume of more than 10.1 million shares. From August 2009 through June 2014, DGLY had an average volume of just 13,000.
As investors swarm the stock, signs point to more cities adopting wearable cameras for their police forces...
Last year, an April study in Rialto, Calif., showed that complaints against police officers were down 88% after the city required police officers wear cameras. The same study showed that "use-of-force" incidents by the police was down 59%, and that both officers and suspects were less likely to violate rules when cameras were worn.
A 2013 Cambridge University study of Taser International Inc.'s (Nasdaq: TASR) similar video equipment estimated that the wearable camera market was worth about $500 million in North America.
Similarly, a statement from New York City's Public Advocate Letitia James last week noted that equipping New York City's police force with cameras would be a $32 million undertaking. The City of New York paid roughly $152 million in police misconduct settlements last year.
While there appears to be a large market for wearable cameras, that alone does not tell the full story about DGLY stock. Here's what investors need to know before jumping in to this rally...