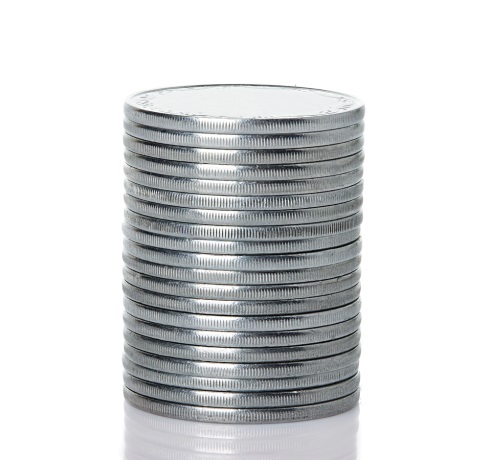 Silver prices today are beginning to jump, bolstered by safe-haven demand from unsettling news on the Ukrainian-Russian border.
After closing yesterday up $0.08 to $19.435 an ounce, the white metal touched as high as $19.90 an ounce in the early morning, a two-week high, before the U.S. Department of Commerce revised up U.S. annual gross domestic product growth to 4.2% from its previously reported 4% figure. As of the late afternoon, silver was trading close to $19.60.
Silver, as a precious metal investment, has a tendency to move on negative economic news or on tensions abroad, as it is seen as an alternative investment vehicle and a hedge against a weakening dollar. That's why silver got a bump in the early morning when officials from Kiev accused Russia of invading Ukraine, further escalating clashes between Ukrainian forces and pro-Russian militias.
It's also why, when the U.S. Commerce Department released positive news on economic growth in the United States this morning, it dove back to trading around $19.60 from its intra-day highs of around $19.90.
If silver does close out around its current prices, today's gains would be the most significant in three weeks, up $0.13 at 3:30 p.m. EDT. The last increase of this magnitude came on Aug. 6, when the white metal soared $0.265.
This day of gains is a welcome change from the continual losses silver has been experiencing since mid-July…
What Has Held Silver Prices Down?
The silver price had been rallying for about six weeks in June before the summer doldrums kicked in and silver began a descent around mid-July. From its peak on July 11 of $21.445, silver has slid 9.4% as of yesterday's (Wednesday) close.
The culprit behind this steady decline, which has culminated in silver trading down from its 2013 closing price for the first time in two months, was renewed short activity in the futures market.